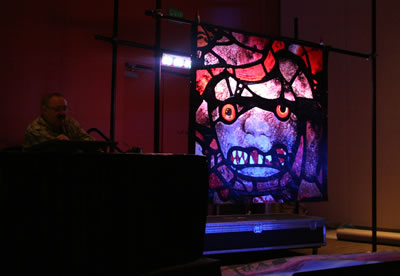 Leaders of the Scene Design Commission help determine which programming will be recommended for USITT's Annual Conference & Stage Expo. In 2009, the commission presented a session on translucent backdrops, illustrated with examples which were hung and lit during the session.
Photo/Casey Kearns
Scene Design Commission Leadership Update
Following is an update on the Scene Design Commission leadership and their e-mail addresses. Commission leaders are eager to hear from those interested in assisting with the mission and work of the commission.
The mission of the Scene Design Commission is to: further an interest in the areas of scene design, scenic painting, and properties; provide easily accessible information about the latest innovations and trends within the field; and encourage the improvement and evolution of the teaching of design.
Karen Maness: Co-Commissioner, kmaness@mail.utexas.edu
Frank Ludwig: Co-Commissioner, fpludwig@viterbo.edu
Michelle Harvey: Vice-Commissioner for Programming, harveymd@exchange.uta.edu
Robert Berls: Vice-Commissioner for Health & Safety, rberls@unca.edu
Nadine Charlsen: Past Commissioner, Co-Vice-Commissioner for Projects and Symposia, nadinelc@nyc.rr.com
Susan Crabtree: Co Vice-Commissioner for Scenic Art, susan.crabtree@colorado.edu
Joan Newhouse: Co Vice-Commissioner for Scenic Art, chzypntr@yahoo.com
Dennis L. Hassan: Vice-Commissioner for Computers, dennis.hassan@usu.edu
Heidi F. Hoffer: Vice-Commissioner for Publications Liaison, heidi.hoffer@okstate.edu
Casey Kearns: Vice-Commissioner for Design, ckearns@uwyo.edu
Rich Larsen: Vice-Commissioner for Education, larsenr1@scranton.edu
John Lavarnway: Co Vice-Commissioner for Props, john.lavarnway@wright.edu
Elizabeth Popiel: Co Vice-Commissioner for Props, scenicdesigner@hotmail.com
Ken Martin: Co-Vice-Commissioner for Projects and Symposia, kmartin@coastal.edu
Treva Reimer: Vice-Commissioner for International Issues, reimert@central.edu
Panela Leung: Vice-Commissioner for Student Affairs, kansascityscenic@gmail.com
Arden Weaver: Vice-Commissioner for Heritage, aweaver@d.umn.edu
Rob Eastman-Mullins: Portfolio Review, robdmem@alumni.umw.edu
Ann Cadaret: Portfolio Review, ann_cadaret@pba.edu
To Top