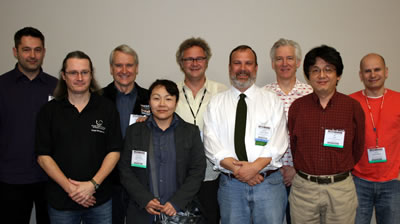 USITT's Conferences have always included many different international components, such as the OISTAT Technology Commission meeting, shown at left, held as part of the 2009 Conference & Stage Expo in Houston, Texas. This year, a special group connected with the Kennedy Center will be participating in Cincinnati, Ohio.
Photo/Tom Thatcher
Share Conference with International Visitors
Several special international visitors will be on hand when the USITT Annual Conference & Stage Expo opens in Cincinnati, Ohio in March. For the second year, technical theatre specialists from countries ranging from Ghana to Cambodia will be able to participate in conference sessions, special events, and Stage Expo.
USITT members are invited to serve as mentors for these international guests, to help them gain the most out of their visit. Most speak English fluently. To meet, greet, and help guide one of the visiting technicians, contact Sandy Bonds, Vice President for International Activities, at abonds@uoregon.edu.
These seven special guests are part of the Cultural Visitors Program, the purpose of which is to offer professional development opportunities to emerging artists in the field of performing arts. The John F. Kennedy Center for the Performing Arts, in collaboration with the U.S. Department of State Bureau of Educational and Cultural Affairs, created the Cultural Visitors Program.
The Kennedy Center and Department of State hope to energize the work of these emerging international artists in their own countries by bringing them to the United States and providing them with instructive and informative experiences in their arts disciplines, exposure to the creation and performance of world-class art, and opportunities to begin to develop relationships with U.S. arts professionals.
In addition to attending the Conference, the principals and their interpreters will spend a week in Washington, D.C. working with well-known lighting and sound designers and visiting theatre spaces.
The visitors and their affiliations are:
Louis Archer (Ghana), acting principal sound technician for the National Theatre of Ghana.
Jose Casis (Panama), an artistic director who has worked extensively in musical theatre.
Sarin Chhuon (Cambodia), the managing engineer of Studio Cambodian Living Arts, a project of World Education.
Joseph Gueu (Cote D'Ivoire), currently a manager of theatre workshops at a private theatre training center.
Tarek Mourad (Lebanon), a lighting designer who has worked throughout Lebanon and in several international venues.
Cesar Robles (Panama), a freelance artistic director, technical director and stage manager who also teaches lighting technicians and stage managers in Panama.
Bunsim Van (Cambodia), who has studied in a masters program in lighting design in South Korea.
To Top