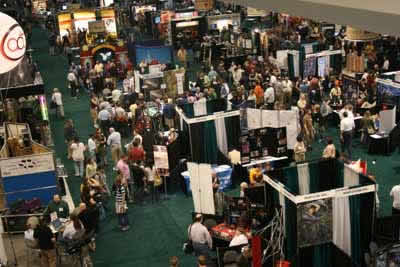 Crowds will again gather at Stage Expo when the 2008 version kicks off in Houston on March 20, 2008.Each years, Stage Expo opens with special surprise entertainment, so those who will be in Houston are encouraged to be on hand to see what is planned.
Photo/Tom Thatcher
Stage Expo 2008 Reaching
For a Sell Out!
They say that everything is bigger in Texas, and that is certainly true of Stage Expo 2008 in Houston. Last year's Phoenix show set a record with 27,700 square feet of exhibit space, while Stage Expo 2008 will have nearly 30,000 square feet of booths and tables. With one month until the Conference, just two booths remain to be sold. Several additional booths were squeezed into the exhibit hall, and they went like hot tamales. The cluster of eight commercial table spaces is full, and more than 50 colleges, universities, and theatre companies have reserved non-commercial table spaces to promote their programs.
For more information about Stage Expo 2008 exhibitors, visit the Stage Expo Webpage to see the Stage Expo layout and a current list of exhibitors. Click on a highlighted booth or table to find contact information and a brief description for each exhibitor. Links are provided to exhibitors' websites so you can learn more about their products and services prior to the show.
There will be a plethora of special exhibits at Stage Expo, including the US Exhibits for PQ 2007 and Design Expo 2008. The annual Architecture Awards exhibit will be joined by the 2008 Student Design Competition, plus a display of architectural model boxes. Regional exhibits will showcase the Houston Ballet, featuring the work of Desmond Heeley, Tom Boyd, and Kristian Fredrickson, and attendees are sure to enjoy highlights from the Tobin Collection of Theatre Arts. The International Committee will sponsor an exhibit of work by PQ 2007 Gold Medal Award winners, featuring Eloise Kazan, representing all of the costume designers of Mexico, who shared the Gold Medal for Costume Design.
Recent Stage Expo openings have been memorable, thanks to the Native Trails Dance Troupe in Phoenix, the Churchill Downs bugler in Louisville, Bandaloni, the one-man band who entertained us in Toronto, Mariachi Los Angeles in Long Beach, Sesame Street Live in Minneapolis, and the second-line band who led us into the New Orleans Superdome.
Be sure to be at the Stage Expo Opening on Thursday, March 20 at 9:30 a.m. to see what the special entertainment will be this year.
To Top