The online submission process for the 2008 USITT Awards for Young Designers and Technicians in the Performing Arts allowed jury members to see a wide variety of images used to present the work. Above, Steven Kemp, winner of the USITT Scene Design Award sponsored by Rose Brand, presents a sample of wall evaluations for The Physicists.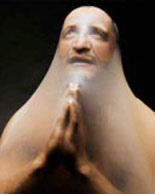 At left is an image from Rhinoceros, part of the portfolio submitted for consideration by Ben Pilat, who will receive the USITT Lighting Design Award sponsored by Barbizon
This costume design sketch, right, for Narcissa, was created by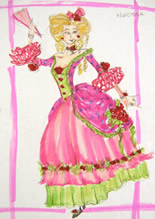 Kevin Thacker, USITT Costume Design & Technology Award sponsored by Zelma H. Weisfeld winner.
Collin Ranney created the look, below, for City of Angels which helped him earn the USITT W. Oren Parker Scene Design Award sponsored by Stage Decoration & Supplies, Inc.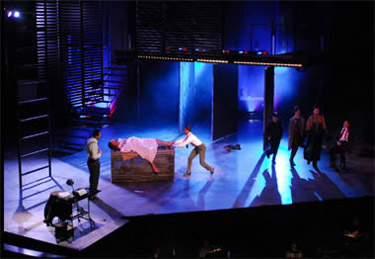 To Top

Images
From the 2008 Young Designer Award Winners