International Sessions Offer
Global Perspectives
The theme for the Conference events planned by the International Committee focuses on the Prague Quadrennial 2007. Three sessions will feature the award-winning exhibits from Russia, Mexico, and Portugul.
Russia received the highest honor of the Golden Triga in 2007. Danila Korogodsky, a native of Russia and professor of stage design at California State University Long Beach, will present his interpretation of the unique exhibit designed by Dmitry Krymov.
At the 12:15 p.m. Saturday session he will profile the designers included within the context of contemporary design in Russia. Contrary to the often-elegant presentations in the National stands, the Russian exhibit was a recreation of an abandoned warehouse, complete with dripping water on the floor. Galoshes were provided for those who ventured in to see the set models precariously balanced on an odd assortment of debris including table china, packing boxes, chairs, and a tuba. Mr. Korogodsky also will describe his own company in St. Petersburg and its innovative performances in a distinctive space.
The Gold Medal for Costume Design was awarded to all of the costume designers represented in the Mexican National Exhibit. Of those honored, Eloise Kazan will be representing Mexico at the Conference on Thursday at 2:30 p.m. in a session co-sponsored with the Costume Design & Technology Commission. She will present a selection of her portfolio and talk about her approach to the design of costumes as a narrative tool. Ms. Kazan has designed sets and costumes for theatre, dance, opera, and film in the United Kingdom, Croatia, and Mexico. She also will discuss the unique qualities of costume design in Mexico, which is gaining world-wide attention in international exhibitions.
João Mendes Ribeiro of Portugal received the Gold Medal for Scene Design. The jury commended his work as an architect who truly understands theatrical space. His designs will be shown by Alexandra Pinho, the Director of the Art Department at the Directorate-General for the Arts in the Ministry of Culture in Lisbon, Portugal on Saturday at 2:30 p.m. She coordinated the exhibit at the PQ and is currently preparing their presentation for the Biennale of Architecture in Venice.
George Tsypin, author of the 2008 USITT Golden Pen Award-winning book, will be talking about his designs which are featured in the USITT PQ USA 2007 exhibit at the national exhibition at Stage Expo on Friday at 2 p.m.
USITT is hosting the Technology Commission of OISTAT in Houston, and several of these international visitors will form a panel to discuss Technical Practice in World Theatre on Friday at 12:15 p.m. Though many of the production challenges for live performance are similar throughout the world, specific local and national conditions and regulations confront practitioners of the technical disciplines. Technical directors and theatre consultants from OISTAT will discuss their experiences with these challenges and will offer their views as to how the solutions might apply to productions everywhere.
Participants in the sound activities at the 2007 Prague Quadrennial will gather to share their stories and experiences from the world's most extraordinary exhibition of stage design. Steven Brown, associate head of the OISTAT Sound Working Group and producer of the many exciting sound activities at the PQ, and Eileen Smitheimer, professor of lighting and sound at the University of Delaware, and one of Mr. Brown's primary assistants at the PQ, will chair this session noon to 1:30 p.m. on Wednesday.
The Lighting Commission is continuing its three-part series on an examination of international approaches to the teaching of lighting design on Saturday at 12:15 p.m. This year's speakers are Jakyung Seo from Korea, who has designed professionally in South Korea, Japan, and the United States, and Nick Morgan, senior lecturer in lighting design from the Central School of Speech and Drama in Britain.
Costumes of India's classical dance will be offered by the Costume Design & Technology Commission on Wednesday at 6 p.m. Deepskha Chatterjee and Rajeswari Soundararajan will explain how the visual iconography in these extraordinary and colorful costumes presents the cultural and religious values of the country.
In addition to these outstanding international guests, programming will be provided by USITT members traveling overseas. John Hofland, associate professor at Gonzaga University in Washington, has taught and designed in the Ukraine. In the annual International Resources and Opportunities session on Wednesday at noon, he will show the process of training costumers and craftpersons at the Odessa Artistic Theatrical College. He will bring examples of the students' work in drawing, sewing, and replicating historical fabrics.
In another session co-sponsored by the Costume Design & Technology Commission on Wednesday at 2 p.m., a panel of London program directors will present their approaches for launching and sustaining a study abroad program in this city with unparalleled resources for students of costuming. Linda Pisano, Loyce Arthur, Gretel Geist, Nancy Hills, and LeLonnie Lehman will describe the unique features of each of their programs in this session that will be valuable for both teachers and students.
On Friday at 10 a.m., the spotlight will be on students who attended the PQ 2007 and participated in the myriad of Scenofest activities. Emily Gill attended a Fashion and Design Workshop, Carl Walling will present his insights from the lectures and National Day presentations, and Ingrid Schultz will describe the process of creating "Labcoats on Clouds" as a part of the Design as Performance aspect of the Scenofest. Richard Finkelstein will give his photographic overview of the Scenofest and related events. In a separate session on Saturday at 10 a.m., Michael Ramsaur will discuss lighting design events highlighted during the Scenofest and PQ 2007.
At Stage Expo, all three of the USITT PQ USA 2007 exhibits will be available for perusal. The National Exhibit features 95 designers and 120 productions representing a cross-section of outstanding scenery, lighting, costume, and sound design in the United States in the last four years. Gallery talks led by the curators will be offered on Thursday at 11 a.m. and Friday at 2 and 3 p.m. during Stage Expo Only times.
The Student Exhibit includes designed boxes from 16 schools and a photo-montage and 3D walls of props and costumes from numerous other design programs. Students will offer their five-minute Design as Performance productions during the Stage Expo times as well. The Architecture Exhibit showcases 17 designs of theatres for training programs, including resident companies, university theatres, and regional theatres with training programs.
In addition to the PQ Exhibits, some of the international guests will bring examples of their work to display, and the PQ organizers will send an exhibition of photographs from the PQ and Scenofest performances and activities.
The intercontinental scope of USITT's activities and networking will be well-represented in Houston. For those interested in getting more involved in USITT's international outreach, there will be a meeting of the International Committee on Thursday at 4:45 p.m.. A meeting to discuss plans for the USITT USA exhibit, which will travel to the Prague Quadrennial in 2011, will be held on Friday at 12:15 p.m.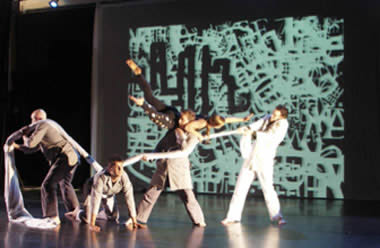 Shown performing "Labcoats on Clouds." at Scenofest in 2007 are, from left, Jason Knox, Onur Yacigizil, Christy Jacobs (on top), Ingrid Shults, and Ron Shoemaker.
Photo/Laura Arns
To Top