The Way We Were:
USITT 2007 in Review
Should auld acquaintance be forgot
and never brought to mind?
Should auld acquaintance be forgot
and days of auld lang syne?
Auld Lang Syne, an old Scottish tune that rings in the New Year in almost every English speaking country, literally means "old long ago" or simply "the good old days."
As president of USITT, reflecting on the good old days of 2007 makes my head swim! What a busy year for the Institute -- chock full of new initiatives and exciting events. As we start fresh, let's review a few of the many exciting changes that mark the old, as we ring in the New Year -- 2008.
January began with a bang as an unprecedented number of students were chosen as USITT Study Tour Award Winners. This is the largest number of recipients yet. These students, together with tour leaders Dick and Karen Durst and some 30 theatre professionals, had the opportunity to spend three weeks traveling to Croatia, Montenegro, Serbia, and Prague visiting theatres, meeting theatre specialists, and spending a fabulous final week at the 2007 Prague Quadrennial.
February brought the promotion of long time staff member Carol Carrigan. Ms. Carrigan served USITT as Financial Manager for six years and added the title Office Co-coordinator in 2004. Negotiations were concluded in February and Ms. Carrigan became USITT's Administrative & Finance Manager.
Joe Aldridge, VP Conferences; Carl Lefko, VP Programming; Dan Denhart, VP Special Operations; the outstanding Conference Committee; and the USITT Staff and contractors made March spectacular. They, along with much help from the rest of the officers, commissioners, and many others, produced the best USITT Conference ever! With sunny Phoenix as the backdrop, Helen Willard's efforts as Stage Expo Sales Manager will go down in the record books as USITT's largest and most profitable Stage Expo ever. Thanks go out to 180 exhibitors who absorbed 27,750 square feet strutting their wares and thrilling conference goers with new products along side the irreplaceable tried and true!
In April, Deborah Hazlett, TD&T Art Director, survived the agonizingly left-brained process of learning and switching over to a new page layout software application with lots of additional features that make our journal even more beautiful and descriptive. Its new features and capabilities are expressed in the collage below with TD&T Editor David Rodger (below) providing oversight.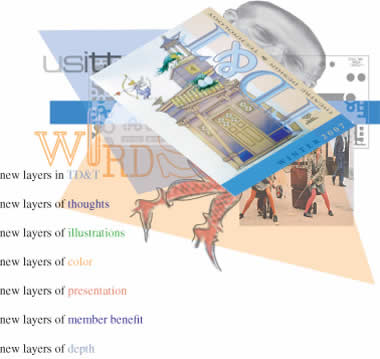 After a careful search, in May, McCarthy Arts Consulting (MAC) was chosen to conduct an assessment of our organization to culminate in strategic planning as we approach our 50th Birthday. With this assessment, we are seeking to assure that USITT will attain both its service goals and assume its proper position within the field at large.
Prague in June featured the 2007 Prague Quadrennial where the large and impressive USITT-sponsored exhibit presented theatrical designs created by 95 artists for 120 productions. Read all about it!!! For the first time, a catalog documented the exhibit. This lavishly illustrated exhibit catalog, Design USA Exhibit, authored by Bobbi Owen, USITT VP Communications, and Jody Blake, Curator of the Tobin Collection of Theatre Arts at the McNay Art Museum, contains an essay about American design in the 21st century, profiles of the four featured designers (Madeleine Sobota, Paul Steinberg, George Tsypin, and David Zinn), and information about the exhibit designs and curatorial process.
In July, Michelle Smith, Membership & Ad Sales Manager, passed a milestone; she completed a record 10 years of service as a USITT staff member setting an all-time record of longevity. Ms. Carrigan; Barbara Ellen Lucas, Public Relations & Marketing Manager; and Monica Merritt, Membership & Conference Registration Coordinator, are not far behind, each having been employed by USITT for nearly nine years. USITT is very fortunate to have such a hard-working and loyal staff.
In August USITT and the ESTA Foundation created a committee to explore a Joint Agreement for Theatre Training. The committee's charge is to develop means of providing training to members of both constituencies, and live entertainment practitioners at-large, in technical areas. This insightful and efficient committee is making impressive strides toward the goal. Watch for upcoming reports on this enterprise.
In September, some 10 years after USITT first published it, the ANSI proposal finally found its way to the Underwriters Laboratory. The outcome is exciting! UL has now adopted the USITT Standard for Stage Pin Connectors.
After 12 years on Ridings Road October brought USITT's National Office relocation to The South Crouse Commons Building in Syracuse's Connective Corridor. The Connective Corridor is "a community-wide effort to link the neighborhoods, businesses, and vast array of arts and cultural happenings in downtown Syracuse and on the Syracuse University Hill." USITT's Board of Directors held its autumn meeting, for the first time, at USITT's national headquarters in Syracuse, New York.
November is election month and USITT members, for the first time, cast their votes electronically. After several years of study and preparation, elections for USITT Board of Directors and Officers were conducted online. This dramatically increased the voter turnout. There is still time to participate in the process, as the final voting deadline is January 10.
In December contracts, were signed for future USITT Annual Conferences & Stage Expos. Save the dates:
March 18 to 22, 2009, Duke Energy Center, Cincinnati, Ohio
March 31 to April 4, 2010, The Kansas City Convention Center
March 18-22, 2015- Duke Energy Center, Cincinnati, Ohio
And the list goes on! None of this could happen without our "auld acquaintances:" our hard-working, energetic and engaged volunteers, staff, and contractors, to whom I offer my heartiest thanks and say:
And here's a hand, my trusty friend
And gie's a hand o' thine
We'll tak' a cup o' kindness yet
For auld lang syne.
Happy New Year!
To Top