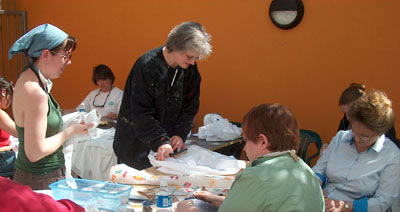 Those interested in costume technology had the opportunity for hands-on practice during the Professional Development Workshop on Costume Distressing at the 2007 Annual Conference in Phoenix, Arizona. A similar lineup of interesting sessions is planned for Houston, Texas in 2008.

Photo/Tim Wong
Choices, Choices Everywhere
Much -- it might be said -- to the horror of of my students, I wonder if it is possible to clone myself for the 2008 USITT Conference & Stage Expo in Houston.
Those who have looked at the Costume Design & Technology programming for Houston, know that we have a great and diverse group of sessions that will keep most of us going late into the evening.
Now here is where the clone comes in.
Not only does the Commission have strong programming, but there are several sessions offered by Regional programming or other Commissions with a decidedly costume and technology bent. This means that, without the use of a clone or that folding-space-time-continuum thing, it will be an extreme challenge to figure out how any of us is going to see it all!
The October issue of Sightlines outlined the costume and technology programming. This is an opportunity to share other sessions that might be of interest. Go to the USITT website to see full descriptions of these sessions, but here are a few worth considering:
International Resources and Opportunities: Training Costumes in Odessa, Ukraine: How Copying, Copying and more Copying Builds a Foundation for Creative Work. An investigation of the training methods of costumers and craft persons at the Odessa Artistic Theatrical College.
Tenure: Not the Final Frontier. Panel discussion about all things tenure related.
Costuming with the Cirque du Soleil. From concept through construction and maintenance, how do the over 300 wardrobe members do it all?
Pigment, Fabric and Light—Interplay of Costumes and Painted Scenery under Colored Lights. How colored pigment and colored light affect each other.
En Pointe with the Houston Ballet. The resident scenic and costume artists from the ballet discuss the challenges, strategies, and art of designing for the ballet.
History of Drag and Houston's Gay Costume Balls. A discussion of the history of drag in the United States, specifically the drag balls of Houston.
An Overview of the Tobin Collection of Theatre Arts. A panel presentation of selected parts of an important collection of theatre related articles dating back to 1500, particularly as a research source for USITT members.
Visual Plagiarism. Does visual plagiarism exist? Is there a moral or legal obligation governing the borrowing and adapting of others works?
It's ALIVE! Puppet Techniques with the Bobbindoctrin Puppet Theatre. A demonstration of puppet building techniques.
Swords in Your Show-What you need to Know. The construction, maintenance, and purchase of stage weapons, with a short history of sword types.
See what I mean? I hope that cloning thing does not cost very much!
To Top