Costume Session Proposal
Deadline Drawing Near
Now that the holidays are over and everyone is getting back into their everyday routine, it may be hard to believe, but the 2008 USITT Conference & Stage Expo in Houston is right around the corner. Along with it is the deadline for Costume Design & Technology Commission Workshop Proposals for the 2009 Conference in Cincinnati. In fact, it is February 22.
Now that there has been time to think over what kind of workshops are of interest, and even to consider actually proposing a workshop, it is time to put those impulses into action, sit down at the computer, contact those individuals who might want to be a member of a panel, and send those proposals in. Send them to Kate Ellis, e-mail cathryn.ellis@nau.edu; fax 928-523-5111 who will review them, respond with any potential questions, and make sure they are ready to be presented to the membership at the Commission meeting in Houston. Click here for the proposal form. There is also a link on that page to subscribe to the Costume Info listserve to submit an idea for a session to the membership. For assistance, use the contact information above.
Pay close attention when preparing a proposal to the technical requirements on the form. The technical details become extremely important when preparing for a conference.
If someone has an idea for a workshop but does not wish to submit it, send the idea to the Costumer's Info listserve. That way the idea is there for anyone to turn into an actual proposal and, hopefully, a workshop at a future Conference.
Although the Commission as a whole determines the programming for the conferences, the ideas come from the individual members who step forward and make their voices heard and submit the proposals for the workshops they really want to see.
To Top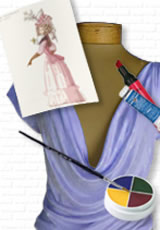 The Costume Design & Technology Commission is seeking proposals for sessions to be presented in 2009.