William Ivey Long Inspires
Exhibit and Symposium
Recently, I had the privilege to visit Wilmington, North Carolina and enjoy the exhibit Between Taste and Travesty: Costume Designs by William Ivey Long. This magnificent exhibition of costume designs was held at the Cameron Art Museum April 29 through October 14, 2007. It was conceived and organized by Cameron Art Museum Director Deborah Velders; William Ivey Long designed it.
The Cameron Art Museum is a collection of fine art, craft, and design including a significant collection of work by North Carolina artists and artisans. With this emphasis, Ms. Velders became intrigued with the idea of exhibiting native son Mr. Long when she was introduced to his work through Alex Witchel's elaborate and fascinating article on Mr. Long's career in the January 29, 2006 New York Times Magazine.
Ms. Velders explained, "The exhibition title is derived from the now-famous quote by critic John Simon, originally used in his review of the 1983 Off-Broadway play The Lady and the Clarinet. Simon dryly observed that Long's costumes 'hover between taste and travesty. '" With characteristic humor, Mr. Long embraced the phrase, appropriating it for an invitation celebrating his 50th Broadway show.
Nominated for 11 Tony Awards, Mr. Long has won five: Grey Gardens, The Producers, Hairspray, Crazy for You, and Nine. He currently has four shows running on Broadway: Hairspray, Chicago, Curtains, and Young Frankenstein.
This is a remarkable record by any measure and one that would not seem to allow for time to leave the studio and make his art and expertise available to all who were able to attend the exhibition. Nevertheless, in conjunction with the event, Mr. Long and his associates sponsored an extraordinary and unprecedented three-day Costume Symposium on the art of Broadway costume design.
An invited audience of some 500 theatre and fashion design students and faculty representing 16 schools and universities from four states attended. The Costume Symposium required no admission charge nor application for participants; organization and planning for this event was handled entirely by the William Ivey Long Studio. Bobbi Owen and I were especially pleased to be invited to represent USITT and serve as moderators.
Mr. Long began the symposium with a slide presentation of his life and career, from growing up in a theatrical family, to spending summers at the Lost Colony, and studying at the College of William and Mary and the University of North Carolina-Chapel Hill, where his parents were on the faculty. Mr. Long left the program he originally pursued at UNC, earned an MFA from the Yale School of Drama, and moved to New York where he has designed 56 Broadway shows, and counting!
Lunch was arranged for students to enjoy in the Cameron Museum's courtyard while basking in Wilmington's beautiful, late September weather. A very personable man, Mr. Long visited informally with the students and faculty who were dazzled by his artistry, thrilled with his stories, and charmed by his wit and grace.
Afternoon events included three concurrent sessions with a round robin format.
Mr. Long gave a guided tour of the exhibit providing the opportunity for up-close looks at beautiful and extravagant garments seen before only from the audience. Mr. Long discussed his sketches, talked about his use of color and texture (design elements of which he has no apparent fear), and explained the significance of his design work as a part of the inevitable collage of scenery, lights, set dressing, and properties.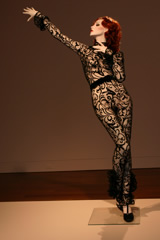 The exhibit began in a room displaying only one costume; Mr. Long's striking signature piece designed for Anita Morris as Carla in Nine, which is shown at right. The costume was made by Werner Kulovits, Barbara Matera, Ltd., with wig by Paul Huntley.
From there the viewer is drawn, like a moth to a candle, past a room displaying the Girl on the Swing (Contact) to another room featuring the Girl in the Yellow Dress (Contact), startlingly presented in an all yellow gallery. Next comes the temptation to look through a peephole for a private viewing of Beautiful Girls Wearing Nothing but Pearls (The Producers), shown at the top of this article.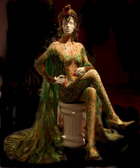 Proceeding through countless treasures, viewers arrive at the grand finale ­ an entire gallery devoted to Mr. Long's enormous and flamboyant creations for Siegfried and Roy's Las Vegas production. At left is the Evil Queen's snake look by Lynette Chappell. The costume was made by Barbara Matera, Ltd.
The opportunity to discuss Mr. Long's creative processes and contemplate the outcomes with him (among a large, descriptive, and occasionally mischievously exhibited panoply of his creations) was an experience without parallel.
Young Frankenstein: The Process of Designing a Show, as presented by associate Donald Sanders, illustrated the arduous journey from idea to the creation of a Broadway show, tracing the development of Young Frankenstein costumes from their earliest beginnings through the show's recent preview performances in Seattle, Washington.
Associate Brian Mear eloquently presented Running a Design Studio. Mr. Mear showed a detailed "costume bible" and stressed its importance for Broadway productions. Since longevity is the goal, the need to recreate costumes along the way is made possible using these exacting records.
These three memorable and eventful days brimmed over with Mr. Long's awe-inspiring artistry, his articulate and critical appraisals of his own work, and his scintillating stories of life in the Broadway costume world.
Thank you, Mr. Long, for your manifest interest in education and advancing understanding of theatre arts. By painstakingly preparing the exquisite exhibit at the Cameron Art Museum, you awakened the public's understanding of theatre arts. Preparing and generously offering classes, at no cost, to students and teachers of theatre, textiles, and fashion by turning the exhibit into a laboratory for a Costume Symposium was a generous and profound contribution to the knowledge of the next generation of costume designers.
The entire symposium was filmed for wider distribution; details of which will be announced.
For those who wish to learn more about William Ivey Long's design process, a catalog of the exhibit is available from the Museum. Call 910-395-5999 for pricing and information.
Photos within the article of Nine and the Evil Queen, taken at the Cameron Art Museum, by Amanda Hughes
To Top