The Magic of Costuming
In Florida's Themed Venues
The Summer 2007 Costume Design & Technology Symposium took place in Orlando, Florida and focused on costuming in theme parks and other live entertainment venues. The three-day event included panel presentations and tours that gave the participants a behind-the-scenes view of costuming at Orlando's area parks and Cirque du Soleil's La Nouba.
Participants traveled each morning from Disney's Pop Century Resort to backstage at Disney's MGM Studios where they enjoyed coffee and tea before beginning the day's panel presentations in the Feature Animation Screening Room.
The first day began with an introduction to costuming within the Disney organization presented by Vinny Pagliuca, director of costuming and cosmetology. This was the perfect introduction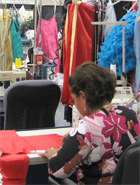 to that morning's tours of the Creative Costuming Workrooms (including millinery, draping, CAD lab, and cutting and stitching areas), the costume area for the MGM Studio's parade, and the wig styling room. It included a demonstration of the Garment Utilization System which tracks all wardrobe and costume pieces across the Walt Disney World Organization.
Following lunch, panelists from Universal Studios (Daniel Blumberg and Mark Klingaman), Sea World (Melanie Sosa), and Busch Gardens (Marilyn Gaspardo-Bertch) shared how their costuming areas are organized. Participants were interested to learn that there are great differences between each organization.
Disney representatives Rebecca Carroll-Mulligan, an area manager for costuming: Douglas Enderle, senior costume designer; and Eric Hill, a character costumer, joined the panel to discuss how costuming for their segment of the entertainment industry differs from traditional theatre. Especially interesting was the discussion regarding weather, costume longevity, and the impact of animals at Busch Gardens and Sea World on the design and construction of costumes.
Day two began with a cornucopia of visuals and demonstrations provided by Disney's cosmetology team (see photo at top of article) led by Mary Lilly, cosmetology manager, and Darlene Kennedy, costuming and cosmetology manager. They discussed their work on parades, special events, and the team that maintains audio-animatronics (like It's a Small World characters). A visual presentation showed examples and step-by-step illustrations for much of their well-known work. This was all underscored by a live demonstration of a make-up application for the Spectro Magic parade.
Later, the participants were split into groups for a set of round-robin tours.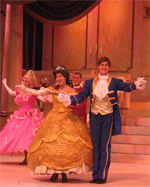 The tours included the main costume warehouse that stores costumes for daily operations employees as well as general costume storage used for special events. The tour of Disney's Central Shops provided an insider's look at character costume development and process. The third tour took participants backstage at the live Beauty and the Beast production, a 30-minute musical production of the well-known story. Following the tour, participants had VIP seating for the show.
After another great lunch from Disney catering, the participants were treated to a discussion of materials and sourcing for Disney's Creative Costuming. The panel included Douglas Enderle, senior costume designer, who discussed how they incorporate custom designed fabrics into their designs and the process for having those fabrics created. Sandy Austin, fabric buyer, discussed the process for sourcing fabrics and how they establish relationships with manufacturers.
The process for testing potential fabrics for durability and colorfastness, and the rigorous standards their materials must meet was particularly interesting. Many participants were surprised by the the discussion of Creative Costuming's fabric library and full-time librarian, Beau Herman, who helps designers locate the fabrics they want to use. The panel also included Materials Specialist Lisa Hanusiak, from Character Programs and Development, who is responsible for helping find and develop appropriate materials for Character Costumes. Ms. Hanusiak's background is in aerospace engineering and she worked with the space shuttle program which she said is very similar to the research and work she is now doing for Disney.
Day three began with an emotional and moving presentation from Gary Landrum of Walt Disney Imagineering. Mr. Landrum shared video clips of Walt Disney and his contemporaries to illustrate how and why the organization is what it is today. There were few dry eyes following this presentation as everyone connected with the message of optimism. David Duffy joined this panel, as did the entire Costume Design team, for questions and discussion about design the Disney way.
The next stop was Cirque du Soleil's La Nouba where the participants enjoyed a question and answer period with Richard Dennison, the company manager, before embarking on a backstage (and above stage!) tour of the facility. The tour wrapped up with a panel discussion with La Nouba's wardrobe and makeup department.
After a quick lunch the participants were welcomed to Disney's Casting building where representatives from Universal Studios and Sea World joined Rick Neely from Disney to discuss internship and employment opportunities. Jonathan Waters, a recent graduate from Disney's Professional Internship Program, told of his experience and how it led to his current, full-time position.
An interesting aspect to the discussion with every professional during the three-day adventure was the career path each took to get to where they are now. A recurrent theme of those journeys was, "Get your foot in the door and show them what you can do." It might not be your dream job today, but you can work your way up to the position you want.
The symposium was capped with a performance of La Nouba.
The Costume Design & Technology Commission extends its sincerest thanks to Darlene Kennedy, Diane Mrazik, and Vinny Pagliuca for their generosity of time and spirit in organizing this event. The overwhelming response from participants was about the open, supportive, positive approach all of the panelists, but especially the Disney representatives, shared. As one participant put it, "The willingness of busy people in high level positions to share their time and thoughts with us was impressive. I felt that this was a unique opportunity." It indeed was a unique opportunity -- a once in a lifetime opportunity to appreciate the diversity of theme park operations, bask in the splendor of Cirque du Soleil, and experience a bit of Disney Magic.
Plans for the 2008 Summer Symposium are underway and will be announced shortly.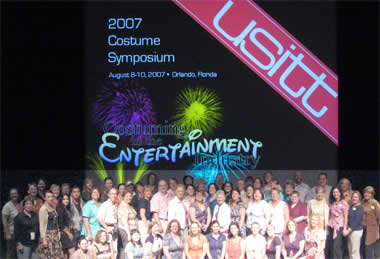 Participants and panelists for the 2007 Costume Symposium pose for a group photo. To download a larger version, click the image.
To Top