Actually, USITT staged two parties on two consecutive nights to celebrate new offices, new connections, and a visit by the Board of Directors, Finance Committee, Publications Committee, 21st Century Task Force, and PQ 2011 Task Force.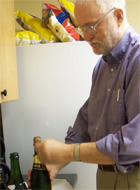 On Thursday, October 11 the festivities began with a champagne reception to officially open the USITT offices at 315 South Crouse Avenue. Former treasurer Larry Hill, right, supervised the opening of the bottles to make sure of an equitable distribution of the bubbles to all guests.
President Sylvia Hillyard Pannell, who will write about the official happenings in a future issue, welcomed all to the new space designed specifically for the needs of USITT.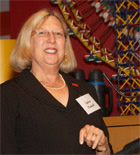 On Friday, October 12 it was time to invite the community to help celebrate, and more than 120 people joined us at the Museum of Science & Technology for great conversation and food in among the interesting exhibits of spinning, moving, and revolving technology. President Pannell, left, acknowledged the support of the arts, education, and business communities who all joined in the celebration.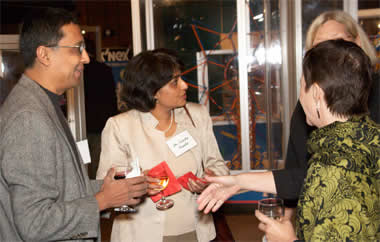 Guests Dr. Kavita Pandit, Senior Vice Provost, SUNY System Administration, and her husband Hunaid Qadir, talk to Jody Blake, right, and Sylvia Pannell (partially hidden) during the October 12 celebration at the Museum of Science & Technology in Syracuse.
To Top