USITT Plans Now for 2007 Tour of Balkans, Prague
USITT is once again organizing a study tour to the Prague Quadrennial, planned for June 2007. Since many members have requested advance notice of the details for this next tour, this "save-the-date" information is being provided very early.
The superb PQ 2007 tour will begin in the Balkan countries of Europe, rich in theatrical traditions and full of cultural venues and historical sites. Current plans include visits to Serbia, Croatia, Bosnia/Herzegovina, and Montenegro. The tour will continue to Prague in time for the opening of the PQ on June 14.
As was discovered during the 2005 tour to Greece, travel in the early summer falls between the indoor theatre season and the beginning of the outdoor festivals, but visits to both types of theatres and meetings with our counterparts that work in them will be arranged. While details are still being finalized at this early date, a draft day-by-day itinerary follows:
Arrival in Zagreb, city tour, evening dinner, overnight (O/N) Zagreb
Zagreb, visit National Theatre, meet with staff, then on to Split (or overnight in Zagreb, then morning departure to Split), O/N either Zagreb or Split
Morning (AM) City tour of Split, outdoor theatres, afternoon (PM) free. O/N Split
Full day to Trogir, Sibenik, and the Krka waterfalls, return to Split, O/N Split
Full day to Hvar and city tour of Hvar, including Baroque theatre. O/N Hvar
Hvar - Dubrovnik. O/N Dubrovnik
AM City tour of Dubrovnik, PM free. O/N Dubrovnik
AM Theatre visits, PM free, O/N Dubrovnik
Dubrovnik - Kotor - Budva (outdoor theatre) - Sv. Stefan. O/N Sv. Stephan
Sv. Stefan - Monastery Mileseva - Sirogojno/Zlatibor. O/N Sirogojno
Day tour - Sargan Train - Ethno village - Zlatibor. O/N Sirogojno
Sirogojno - Belgrade. PM free. Dinner in Skadarlija. O/N Belgrade
AM city tour of Belgrade. National Theatre, PM free. O/N Belgrade
AM departure for Prague, PM city tour of Prague
Noon opening of the Prague Quadrennial
Prague, free day
Day trip within Czech Republic
Prague, free day
Departure for US (alternative, stay one additional day in Prague and depart on day 20)
The trip will be for a total of 18 nights/19 days or 19 nights/20 days (if the group spends an additional night in Prague).
One or two nights - Zagreb
Two or three nights - Split
One night - Hvar
Three nights - Dubrovnik
One night - Sv. Stevan
Two nights - Zlatibor
Two nights - Belgrade
Five or six nights - Prague
This schedule suggests a May 30 departure from the United States and return on June 18 or 19, in order to meet the timetable to be in Prague for the PQ opening ceremonies.
The USITT Study Tour 2007 will again be led by Dick Durst, Past President of USITT and the Tours Coordinator for the International Committee. He will be assisted by USITT member Miodrag Tabacki from Belgrade in offering a trip that will provide memories for a lifetime. This is a part of Europe that has a strong theatrical history but is not often visited by Westerners.
Because the tour is being announced 16 months in advance of its departure, and hotels and airlines have not set their 2007 rates, it is difficult to predict actual costs. Current estimated, land-only costs are about $4,000, not including international airfare. The itinerary will include many meals, entrance fees into all sites on the itinerary, internal airfares within Europe, coach, and guides. The costs are subject to airline costs and surcharges and any 2007 price increases and are provided only as a general guide for planning purposes.
More information will follow in the upcoming months including a summer announcement of the tour details and guaranteed price structure. Plan early to join USITT colleagues on a tremendous tour opportunity! For more information, contact Mr. Durst at rdurst1@psu.edu.
To Top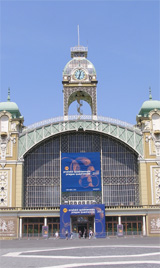 USITT's Study Tour will visit several Balkan countries and then be on hand for the Prague Quadrennial 2007 opening at the Industrial Palace at the Exhibition Grounds in Prague, Czech Republic.