Lighting Commission Update:
ETCP Rigging Exams Launched, Electrical Exams Under Development
Over 200 registrants sat for the arena and theatre rigging examinations on November 12, 2005 to try to become the first ETCP Riggers and the only members of the "Class of 2005." Results of the examination have been released since the statistically-based scoring process has been completed. A list of that elite group can be found at http://etcp.esta.org
Riggers who did not take the examinations in November may apply now to take the examinations starting March 15, 2006 at computer centers across the United States and in Canada. Complete examination information is available in the ETCP Candidate Handbook, which can be downloaded at etcp.esta.org or requested from certification@esta.org.
Work on the first electrical examination is being completed by Entertainment Electrical Subject Matter Experts (SMEs) working closely with psychometricians using nationally recognized criteria for professional certification bodies.
In order to make certain the examination will focus on what electricians do on the job; these SMEs were recommended by their peers and appointed by the ETCP Council. These highly regarded experts will assist Applied Measurement Professionals (AMP), ETCP's test development contractor, through the test development process. The SMEs are: Rick Baxter, Eric Bouchard, Jeanette Farmer, Ian Foulds, David R. Hatch, John Huntington, Tony Giovannetti, Dave Loftin, Jim Maloney, Alan Rowe, Nancy Shaw, and Ken Vannice.
The first step developing the examinations is the job analysis. This job analysis, developed by the appointed SMEs under the direction of AMP, was sent to hundreds of entertainment electricians to help define the knowledge and skills necessary for the safe practice of entertainment electrical crafts.
The first electrical examination will be held at the LDI tradeshow in Las Vegas, Nevada in October 2006. Candidate handbooks and applications for the electrical examination will be available in March, and there will be a candidate information session held at USITT's Annual Conference on Friday, March 3, 2006 at 4:45 p.m.
Under the auspices of the Entertainment Services and Technology Association (ESTA), ETCP is being developed with the following organizations: AMPTP, CITT, CCE, IATSE, IAAM, InfoComm/ICIA, The League, PRG, TEA, and USITT.
To Top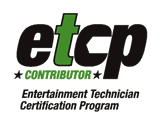 USITT's support for ETCP entitles it to use this special logo. It is among several organizations and businesses that provide financial support to ETCP.