Lighting Session Lineup,
Award Winner Announced
Even though it is only October, it is time to start looking ahead to the conference in Louisville.
The Lighting Commission has 15 exciting sessions this year. There will be four sessions in the Light Lab; some of the topics will include: The Art of Cueing and Timing, Using LEDs, Lighting Visualization Software vs. the Real Deal meaning the actual lighting compared to what the software displays, and a Master Class on Lighting with Color and Gobos, presented by Mark Stanley. The master class is once again being co-sponsored by Rosco. This year's lab will be located on the large, well-equipped stages of the Kentucky Center for the Arts.
There are several other sessions including: How to Pick a Grad School, Designers are Colorful which is a detailed examination of the effects of color as a design tool with Joe Tawil of GAM Color as one of the panelists, and Lighting Design Projects for the Classroom. There will also be a Professional Development Workshop on Indoor Pyrotechnics. This will be a two-day intensive session with hands on training taught by the professionals from LeMaitre. The objective of the workshops is to set up an individual with the tools and that they will move toward the next step in the pyro qualification process.
Lastly, Rich Dunham announced that the Distinguished Achievement in Lighting Award will be presented to James Moody. Mr. Moody has succeeded in numerous areas of lighting design. While he continues to design in traditional venues, he is probably best known as one of the pioneers of the concert lighting industry. His designs have been associated with many noted performers. The Eagles, Rod Stewart, John Denver, Dolly Parton, and David Bowie are only a few of the more recognizable names.
He went on to become a successful lighting director for a number of television programs and special events including Wheel of Fortune, Hard Copy, and Jeopardy!
A man of many talents who has often given back to the industry, he is also a popular seminar presenter, educator, author, and entrepreneur. He helped found and held principal roles in both Sundance Lighting and Visual Terrain, Inc. His writings, Concert Lighting, Techniques, Art, and Business and The Business of Theatrical Design, are regarded as important tests within the profession. A session featuring Mr. Moody and his work will be held on Wednesday afternoon during the conference.
Still time to comment on lighting graphics
While the March conference still seems far away, you can participate right now in the USITT RP-2 (revision 4) Public Review. If you haven't heard of USITT RP-2, it is the Recommended Practice for Theatrical Lighting Design Graphics. USITT RP-2 intends to establish a graphics standard for lighting designers and other lighting practitioners to use. Public review is available until 5 p.m. Eastern Time on October 28. Ballots are available on the USITT website at www.usitt.org/standards/UsittRP-2v4.html. The Commission hopes this will be the last canvass and it can put this version into use soon. Take a few minutes to help support this process.
For information about the programming for Louisville, USITT RP-2, or how to volunteer for the Light Lab as a student or professional, e-mail phelps@fas.harvard.edu.
To Top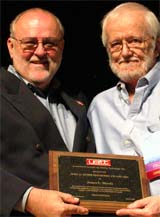 James Moody, left, was honored with the USITT Founder's Award in 2003. He will receive USITT's Distinguished Achievement Award in Lighting Design in 2006 as part of the Annual Conference & Stage Expo.

Photo/Tom Thatcher