Ask A Professional
Revamped format broadens scope of questions and answers
For over a year, the Management Commission has offered a forum for working and aspiring managers to ask questions of a professional team. Scenarios have been posed in Sightlines with some very creative responses.
Beginning with the November issue, we will broaden the scope of this series. The other Commissions are invited to participate in offering questions, answers, and situations. It is not surprising that it will become an ongoing dialogue on some of the hotter topics.
We only ask that discussions be theatre related: from the classroom to the stage, from equipment to personnel issues, from technique to personal "tool box" needs. It is wide open. The resource pool is immense. It covers education, lighting, sound, scene design, tech production, architecture, engineering, health and safety, and management.
All correspondence should be directed to Jay Sheehan, jsheehan@mail.sdsu.edu, Vice-chair of Publications for the Management Commission.
To Top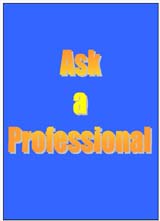 Ask a Professional is designed to answer questions on any topic. Please contact jsheehan@mail.sdsu.edu