More than 900 Designs
Submitted for WSD!
On June 30, the submission deadline for the inaugural World Stage Design exhibition and catalogs was reached. The response has been wonderful for the first mounting of this new international quadrennial celebration of set, costume, lighting, and sound designers and their creative work.
The committee was inundated the final week with entry forms, photo images, and queries! For a couple of weeks, the office was filled with boxes of unopened packages. The office's two computers struggled to keep up with the e-mail and Internet demands.
It has been exhausting trying to stay on top of it all, but things have finally settled down. The focus is now on transferring all the entry details into the database, getting underway with the image and audio file preparation, and working on the myriad details associated with the premiere of WSD in Toronto during March 2005.
The unofficial tally is that as, of July 15, more than 525 designers representing 42 countries have submitted some 950 works of design for exhibition and publication!
It is a challenge to find the time in busy lives to prepare material for inclusion in an international celebration of set, costume, lighting, and sound design like this. The WSD Committee appreciates the effort made by these many designers around the world and trusts it will be worth it.
From the design images and audio files submitted, volunteers will be able to create a very exciting WSD Digital Exhibit along with valuable and informative print and digital catalogs. In September, the committee will convene an International Selection Jury to review all the submissions and choose some of them to be presented in their physical 2D and 3D form in the WSD Gallery Exhibit.
The Committee thanks the large number of USITT members who are participating in WSD 2005, both through submitting design work and through volunteering time on the project.
To Top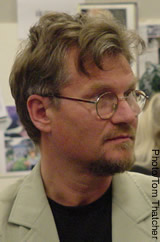 Nic Ularu, creator of the World Stage Design poster, is active in the international design community.