Officer Profile: Holly Monsos
An affiliation with USITT that started out as a job connection has led to a seat on the organization's Executive Committee. Holly Monsos took office July 1, 2004 as Vice-President for Sections & Chapters. LeRoy Stoner chose not to run for re-election.
"In grad school, USITT was purely a job connection," she explains, "but I was amazed by what else was going on" during the 1986 Annual Conference & Stage Expo in Oakland, California. It was the first she attended. She got first one, and then several jobs from her USITT connections, as she did the "usual professional thing." These included stints as a stitcher at San Francisco Opera and Oregon Shakespeare Festival. She then worked as a cutter/draper for Oregon Shakespeare Festival and several others.
The year before she took her present position at University of Toledo, she filed income taxes in five states.
"I was hired as a costume shop manager," she notes, but almost immediately the costume designer retired. She assumed that post, which she still holds. Among her favorite projects is A Funny House of A Negro. It was a co-design project with costume craft specialist Judy Chesnut. Ms Chesnut did wigs, makeup, and masks while Ms. Monsos did garments.
Almost as soon as she arrived in Toledo 13 years ago, Chuck Williams and James Hill encouraged her to become more involved with USITT. At USITT, she always found people who "spoke the language," which made attending Conferences a wonderful experience.
She has served on the Conference Committee for several years helping produce the annual event. She was signed up as apprentice registrar for the 1996 event in Fort Worth, Texas, but was upgraded on the spot out of the apprenticeship. She has run the Conference Office and served as a troubleshooter. "I just kept saying 'yes' and it was sort of the same with the Regional Section" as well as her new position as VP for Sections & Chapters.
Ms. Monsos has been active with the Ohio Valley Regional Section for the past several years serving as a director, newsletter editor, and Section Chair. When she was approached to run for the VP post, she already had an understanding of how the relationship between the national organization and the sections works.
"I'm very interested in making sections all they can be, providing them the tools, and making sure they have access to the resources which are already in place," she says. She feels it is also important to keep communication flowing between sections, chapters, and all segments of the organization.
Ms. Monsos sees the balance between local and national events as important. "I like having things that are nearby, and I like going away to someplace fun with just theatre people." She feels exploring new options is great, and strengthening sections and chapters can only strengthen the overall organization, and vise versa.
As a balance to her collaborative work as a designer, instructor, and volunteer, Ms. Monsos enjoys weaving which she says is it is a nice way to be able to control "absolutely everything in the process, from threads, to colors, to every tiny detail." Since her free time is limited, she currently works on two-dimensional pieces but that may expand.
Among those who benefit from Ms. Monsos' creative energies are her husband, Allen Koch, a robotics engineer in the automotive industry, and two stepdaughters. Samantha, 12, is an artist who is into anime while Adrienne, nine, has already decided she wants Ms. Monsos' job when she grows up.
Since Ms. Monsos already has a brother teaching scene design at the University of Montana, where she earned her master's degree in costume design, is it too far-fetched to think there might soon be a second generation costume designer seeking the perfect balance?
To Top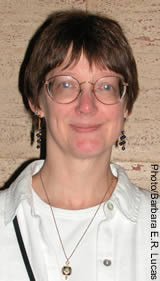 Holly Monsos took part in her first series of meetings as a member of USITT's Executive Committee July 23 to 25, 2004 in Toronto, Ontario, Canada.