No matter what your politics, we can all agree to congratulate Bill Klages, winner of USITT's 2004 Distinguished Achievement Award in Lighting, for his work at the Republican National Convention which begins August 30 in New York City. He served as lighting designer for the event in 2000 as well.
Michael Mell of Theatre Design, Inc. in Cold Springs, New York is providing assistance on the new Events Center at the Turning Stone Resort and Casino in Verona, New York.
It may be a year away, but the USITT tour of Greece which begins in June 2005 is already sold out. Past President Dick Durst is looking forward to leading this band of intrepid travelers on a 15-day study tour.
Look for a report of another sold-out USITT event, the 2005 Costume Symposium, in the October issue of Sightlines. Congratulations to Kevin McCluskey, Symposium Coordinator, for all his hard work to make this a success.
We welcome Olga Maksimovich, the newest member of USITT's office staff. Ms. Maksimovich, Data Services Manager, will assist with maintaining computer systems and the organization's web site. Because she works part-time, morning is the best time to reach her.
Missing Information: With the electronic delivery of Sightlines it is even more critical that members keep USITT informed if they change addresses, either a physical address where mail is sent or an e-mail address where electronic messages are received.
The fastest way to know when the latest issue of Sightlines is available is to make sure USITT's records have a current e-mail. Updating everything from addresses, to telephone numbers, to job titles, is as easy as completing the update form here.
We are currently out of touch with the following people. If you have information about how to contact Becky Greteman, Rafael Jaen, Kevin Hawkins, or Melissa Lewis please call 800-938-7488 or e-mail barbara@office.usitt.org so we can reconnect with these valuable members.
To Top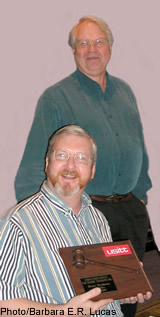 Bruce Brockman, seated, received a plaque commemorating his years as President of USITT from John S. Uthoff, who assumed the office of President on July 1. The presentation was part of the Summer Executive Committee meetings in Toronto, Ontario, Canada.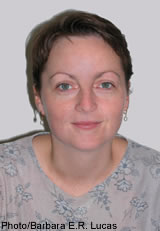 Olga Maksimovich is USITT's new Data Services Manager.