News & Notices
USITT Student Alliance for Safety & Health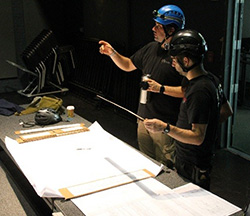 The Safety & Health Commission will introduce the Student Alliance for Safety & Health (SASH) during USITT 2018. After learning what students want from our successful mentoring programs in years past and recognizing the challenge that Safety & Health presents as a platform that crosses all disciplines, we are exploring new ways of engaging with our student members.
SASH will serve as a student-only forum for the discussion of concerns, experiences, lessons learned and strategies for future growth. It is designed as a complement to the education and training that both undergraduate and graduate students already receive.
Scheduled sessions at the 2018 USITT Conference will provide interested students an opportunity to gather in a safe environment for an open and frank exploration of shared experiences from their academic and professional activities.
In addition to sharing experiences, the group will explore ideas for ongoing interactions and the possible development of a support network for students from a variety of academic institutions. Connections with regional and student USITT chapters can help to strengthen the value SASH will provide, so coordination with their leadership will be helpful.
Ideas and input related to SASH is welcome. Bill Reynolds, Safety & Health Vice-Commissioner – Education & Student Alliance Program, will be facilitating the program. Please share your ideas and comments at william.reynolds@yale.edu.