News & Notices
Member Spotlight: La Beene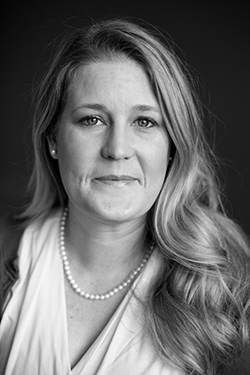 Q&A with costume designer, Utah Valley University assistant professor, and VC for Communications for USITTs Costume Design & Technology Commission, La Beene.
How did you get your start in technical theatre and costume design?
I grew up sewing and doing theatre, so they came together in a very natural way. In high school, if you were the person who sewed you were the person who put together costumes. I honestly didn't realize that you could have a job doing that until I got to college and became involved in the theatre department. Suddenly, I discovered there were people who did that for a living.
Did you have a passion for design growing up?
I was obsessed with the Muppets as a kid. I really wanted to make clothes for Miss Piggy. I thought maybe that was something I could do, but I still didn't realize it was a job. I made a lot of things for Barbie and for dolls, and I grew up in the Molly Ringwald era, so I modified thrift store items so that I could have my own unique look. I did a lot of that, but I didn't have a clue you could apply it to a career in costuming.
How did you become involved in teaching?
When I went to school, I thought I was going to be a high school drama teacher. That was the job that made sense with my skill set. It was a natural evolution as I went through school and got a degree with an emphasis in costume design and technical theatre and went to grad school. I went to grad school specifically because I knew I wanted to teach. Teaching was something that I thought was always going to be in my stars, and it is.
Do you prefer freelance work or working on shows at the university?
I love doing outside work, but I consider myself a teacher first. I love working with outside students on their productions and having my students assist me on things that I design at the university because it's all part of a learning process. That's the world that I fit into and that my brain likes. It likes training young designers.
Tell me about your role with the Utah Valley University Student Chapter
Two years ago, I had a bunch of students who wanted to know more about USITT and I said, "You know, you can have a Student Chapter." We had a good group of students who put together their charter and had it approved by the school and the national charter, and it's been great.
They're a very active group. They won an award for the most active club on campus last year, and their goal is to educate themselves and find unique opportunities and get themselves to the Conference. They're pretty good at doing that. I help where I can with grants and trying to find money to get them to the Conference, but they're go-getters and they operate independently. When they need me, they come and get me. They're an active group and they're great, excited, and passionate, which is fun.
You've had an extensive career so far. What challenges do you face on a regular basis as a designer?
One of the toughest things is figuring out when you have to say no so that you can do a good job on the things you're committed to. Sometimes there's great opportunities but the timing is bad or you're already committed to other projects. I do say no to projects and am mindful of how much work I take on. Organization is key. Being able to balance the artistic side with the organizational side is important to me. I stress paperwork with my students. You can't mentally keep track of every little piece. Making sure I've got the right organization put in place is particularly important.
When I'm working with the children's theatre, I can regularly have 400 costumes in a show for them because it's such a large cast, and I can't keep track of all of that mentally. Making sure that I keep track of the groups on paper is the only way to keep my sanity.
What is your favorite aspect of design? Do you adhere to a signature style?
I love the research. That's super nerdy, but I love finding the historical connections and the not-super- appreciated details that no one might see. They may not make it onto a costume, but at least I know them.
I love musicals. I like to render in different styles. My work usually doesn't look the same show to show. I like hand painting renderings and computer renderings. Whatever the style is of the production I'm working on, I will adapt my style to fit the show.
How does USITT play a role in your life?
I've been a member for 15 years. When I was in grad school I became a member of USITT, but it hasn't been until the last five years or so that I've really been able to attend the Conference regularly. I love the workshops and being able to connect with people in my field from different areas. Everyone has so much knowledge, and everyone is so generous with their time and knowledge. I've found that I learn so much from being around people at the Conference.
The last three years, I've been able to take students, and it's been great to see them come to the Conference and realize these are their people. They attended the workshops, find internships, and talk to grad schools. Usually every school has maybe one costume designer, so you feel like you're in this world all by yourself. Then you get to the Conference and realize you're part of a much bigger group of people, and it gives you a sense of comradery that there are other people who know what you're going through, what you're dealing with, and what you're trying to learn.
I like the fact that we're all able to connect on Facebook now. If I have a question about something, I don't have to wait for the Conference. I can reach out to these people I've met at the Conference and ask them questions about how they do something at their school and it's awesome. With us starting and re-chartering our section, it's been nice because we have a connection out in these western states, and we have a group of people who are working to provide additional training for our students.
Suggest a USITT Member for the Spotlight!
If you know of USITT members whose work should be in the Spotlight, please feel free to suggest them. Contact Jenn Shuron at jenn@usitt.org.