News & Notices
10th Kook Fund Art Auction and Garage Sale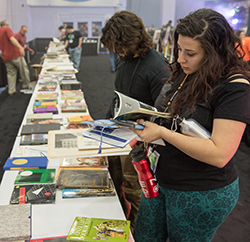 USITT will be hosting a fundraising event called The Silent Art Auction and Garage Sale at the March Conference in Fort Lauderdale. This event is hosted every three years and provides funding to the Grants & Fellowships Program and Kook Fund. Over the years, approximately $300,000 has been distributed to a variety of grant and fellowship recipients through this funding. These awards have helped sponsor research and technological developments within the entertainment industry.
The Art Auction and Garage Sale is an opportunity to replenish some of the funding that has been provided in recent grant and fellowship awards and takes place near the special exhibits and Network Nexus at Stage Expo.
The silent art auction typically features 20-30 pieces of original artwork (renderings, sketches, other materials related to significant productions, and other items and books of historical significance, such as tour jackets) from members of the Institute and other design professionals throughout the industry. The garage sale features items that are priced and immediately sold as they would be in any other garage sale. Items that have appeared in past garage sales include books, older trade journals, old swatch books, period stage lamps, show posters, unique drafting, and other related equipment and stage items.
If you have a connection who is willing to part with a significant piece of theatre art or other collectible and donate it to the Art Auction, we would love to hear from you.
If you have an old library that you have to retire to the garage or just a couple of books, old trade magazines, posters, or other theatrical memorabilia that you no longer need or want and feel that some of our younger members would benefit from adding them to their collections, we would appreciate your donating them to the garage sale. All donations to the auction and garage sale are tax deductible.
At this time, we are only looking for commitments. Arrangements for getting the materials to us will be made after the beginning of the new year. To donate to the Art Auction, please contact Rich Dunham or Dennis Dorn. For information regarding the garage sale, contact Randy Earle.