The Fellows Update
A New Beginning: Life After Retirement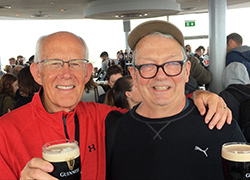 As I always tell everyone as they approach retirement, make sure you know what you are going to retire to and not just from. Well, as I approached my retirement in June 2013, I had to remind myself of that advice and to gauge my own ability to transition from 43 years of teaching, first at Morehead State University, Kentucky - with the majority at the University of Minnesota — Twin Cities, to a new life without meetings. What has engaged me over the past four years has been time to be freely engaged in many activities; however, at my own pace, agenda, and timeline!
Of course, I have continued to design scenery/properties locally at both Penumbra Theatre and, most recently, at Park Square Theatre in St. Paul-Penumbra. The latter has given me the distinct pleasure of grappling with understanding the African-American voice, with highlights being both Langston Hughes' Black Nativity — a Christmas staple — and Lynn Nottage's By the Way, Meet Vera Stark. For Park Square, I have created a variety of worlds from the studio of Mark Rothko with RED to the bombed-out interior of the 16th Street Baptist Church in Montgomery, Alabama, in 1963 for a world premiere of Nina Simone: Four Women.
For me, designing has always been first and foremost about problem solving. How can I balance a modest budget, a reduced building period into a space with inherent limitations making scene shifts almost impossible? The more difficult the problem, the more I enjoy the work. My early years as a technical director were great groundwork for helping me get the "biggest bang for the theatre's buck."
I also volunteer for a local support group called "The Gathering" that works with folks suffering from dementia leading to Alzheimer's. This outlet provides a great way of giving back and perhaps paying forward with a growing problem that's going to be a tsunami of graying America. Although we work to create engaging programming for the participants, our bigger agenda is to provide time for the overwhelmed caregivers.
To exercise my teaching skills, I provide classes in drawing and rendering for older students at my church. Most have completed careers but have always wanted to exercise their artistic muscle. I must admit that every once and a while, my old sayings perfected over those decades of classrooms slip out like, "The darks define the light," or, "Your first line is going to be wrong — get over it!" This past June, I was asked to do a workshop on Scene Painting: The Historical Method at the U. We started out with viewing historical sketches from the University Archives, followed by two days of frame painting from a historical perspective that was perfected at the U. along with 20 years of teaching at Cobalt Studios.
Through all of this, I have been fortunate to join contemporary Fellow Dick Durst on several international travel adventures. These yearly sojourns have enriched my understanding of what I probably should have been teaching all those years. So, to answer my initial question, I have transitioned to a life of adventure and challenge, but I also must admit, I do miss the classroom and students.