News From David Grindle, USITT Executive Director
Preparing to Launch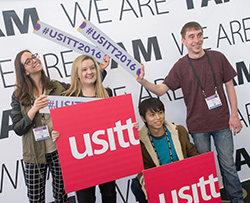 If you are like me, you are wondering where the summer went. It's August! Summer theatres are winding down, some public schools have already started, Target and Walmart are advertising their DORM COLLECTIONS. The reality is here that we are heading towards fall.
The summer at USITT has been filled with a lot of behind the scenes work. Prepping for things to launch in the fall has consumed our time around the office. It seems so far away, but Conference prep has been going on all summer, not just in the office but with commissioners and conference committee members. Education sessions for conference and other times are all in progress.
Your participation in the various activities of USITT is what keeps it moving. In the book Good to Great for Non Profits, Jim Collins talks about the fly wheel effect. It takes effort to get a fly wheel going, but then the momentum keeps building upon itself making it easier to maintain motion. This is what you, the member, provides to USITT, momentum.
When members participate in educational opportunities as learners or teachers, you keep the momentum going. Your ideas of new classes keep the momentum going. Your membership and growth in membership allows us to keep the momentum going.
I guess I've answered my own question about where did the summer go. It went with the momentum of USITT. Summer included Glerum Rigging Masterclasses, Costume Symposium, and a workshop for Las Vegas school teachers coming up in August. That momentum makes things move and with it, moves time.
I hope your summer has had momentum. And I thank you for the momentum you bring USITT as a member. It helps us make an Impact that keeps us moving forward.
David Grindle
Executive Director