News & Notices
Gateway Gears up for USITT 2017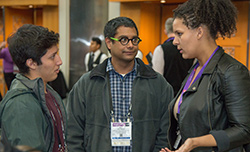 USITT's Gateway Program will open nominations Sept. 1 for students and early career professionals from underrepresented groups in theatre production to receive professional mentoring and to participate in USITT 2017 in St. Louis, MO.
Twelve selected participants will pair up with professional mentors for the 2017 USITT Annual Conference & Stage Expo. Gateway is open to student/early career members underrepresented in live entertainment design, technology, and management because of race/ethnicity, disability, and/or sexual or gender orientation.
Besides meeting a mentor from a similar background and field, Gateway mentees take part in special receptions and sessions on diversity and inclusion in the production industry. The program is part of USITT's effort to expand diversity in the industry.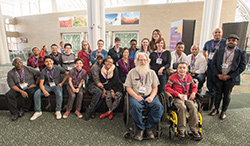 2016 Gateway mentee Randy Wong-Westbrook of Ithaca College told the student newspaper that his ethnic group, Asian-Americans, are underrepresented in his field of scene design.
"I think what a disadvantage it is that there are few people like myself," Wong-Westbrook said. "That can be isolating sometimes, and one thing the mentorship offered me, being accepted into the Gateway Program, was kind of like … when we talk about representation in movies and TV, you want to see yourself on the screen. I'm not a performer, but even still, in my industry I still want to see an older version of myself already active and already successful in the business."
Look for more information on Gateway and how to apply or volunteer to be a mentor at www.usitt.org/gateway.