News & Notices
LiNK '16 Early Bird Discount Available Until Sept. 30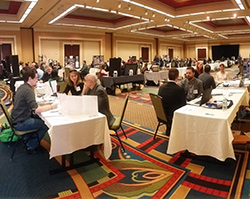 The third annual opportunity to LiNK theatre graduate schools and potential students will be Nov. 11 to 13 at the Crowne Plaza Hotel in Atlanta.
Registration opens Aug. 1 for institutions with a discounted early registration fee of $149 available through Sept. 30. After that, the fee will be $249 through the Oct. 28 deadline.
For more information and to register, visit www.usitt.org/link.
LiNK brings theatre graduate school programs and potential students together for two days of interviews, auditions, portfolio reviews, and networking. USITT and SETC are organizing the event with Routledge/Focal Press returning as Platinum Sponsor.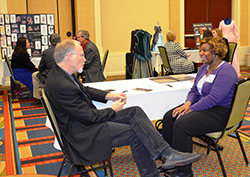 For grad school candidates, registration opens Aug. 15 with an early bird fee of $40 (less than the cost of one grad school application) through Sept. 30. The pre-event registration will be $60 until the Oct. 28 deadline with an onsite registration fee of $75.
LiNK 2017 interviews and auditions will be offered in the areas of acting, directing, stage management, arts management, scene design, costume design, lighting design, sound design, technical direction, stage technology, lighting technology, and costume technology.
USITT and SETC expect at least 50 advanced degree programs to be represented this year. Schools participating in past LiNK events have included Carnegie Mellon University, CALArts, The Ohio State University, University of Alabama, University of Georgia, and the Stella Adler Studio of Acting.