Sept. 15 Deadline for WSD 2017 Submissions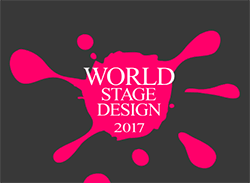 The deadline to submit designs for World Stage Design 2017 as well as productions for Scenofest is Sept. 15.
WSD 2017 will be held July 1 to 9 in Taipei, Taiwan. An international panel of judges will select at least 100 designs. The Exhibition is open to all performance designers. Read the guidelines and submit designs for WSD here.
While there is no pre-determined theme, a theme may emerge during the curatorial process.
Scenofest, a festival celebrating scenography, will include selected performances between July 1 and 9 at Taiwan National University for the Arts in Taipei. Find more information and submit a performance for Scenofest here.
WSD 2017 is being organized by OISTAT, the Taiwan Association of Theatre Technology, and Taiwan National University for the Arts. Visit the WSD website at www.wsd2017.com.