Commissions
Commissions Accepting Poster Proposals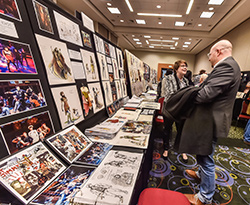 USITT Poster Sessions are a great way to share information and expand scholarly activity, including new solutions to old problems, innovations, research results, discoveries, and developments.
Four USITT Commissions are holding poster sessions. Abstracts will be accepted Aug. 1 through Nov. 15. Posters will be selected in a blind juried process and displayed at USITT 2017 in St. Louis, MO, March 8 to 11.
Commissions seeking submissions are Costume Design & Technology, Education, Lighting Design & Technology, and Scene Design & Technology.
USITT members whose work is selected will receive a presenter ribbon on their Conference badges and discuss their work at a poster session. This may fulfill a member's requirement to present at a conference to receive travel funds. Following the session, posters will remain on display for the remainder of the Conference, and some outstanding posters may be published in TD&T.
Submissions can be made to: