News From
Sustaining Members
GLP German Lighting Products : Welcomes New Sustaining Member
The Institute welcomes GLP German Lighting Products as a new Sustaining member. Since 1995, GLP has provided innovative and quality professional lighting solutions. The company combined with entertainment software group CairosTechnologies AG in 2006. GLP provides lighting for many entertainment and architectural applications.
Creative Conners, Inc.: Introduces Hoist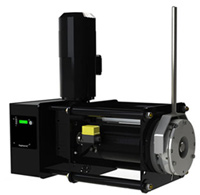 Creative Conners, Inc., which recently upgraded its level of support to that of a USITT Sustaining member, has introduced the Spotline Hoist. Spotline is specifically designed for vertical lifting, and has integrated safety features including a redundant brake. It is capable of lifting 500 pounds at 36 inches per second.
For more on the company and its products, visit www.creativeconners.com.
Alcons Audio: Expanding US Pro-Ribbon Partner Network
Alcons Audio welcomes Griffith Sales as an independent firm to support the company's ongoing growth in the United States. Griffith Sales will handle Georgia, Alabama, Mississippi, North Carolina, South Carolina, and Tennessee.
Alcons Audio offers a wide variety of systems and covers a number of critical vertical markets. For more information, visit www.alconsaudio.com and www.facebook.com/AlconsAudio.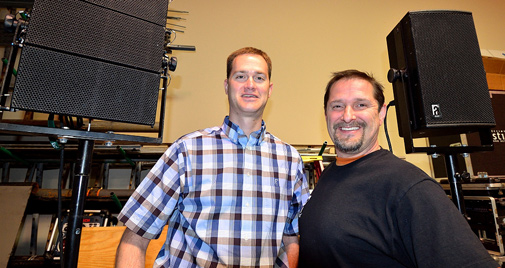 Meyer Sound: LFC Element Chosen for Cirque Show
Since it began shipping last June, Meyer Sound's 1100-LFC low-frequency control element has been used in numerous applications; from supporting massive live concerts, to testing the human response, to extreme low frequencies in a Mythbusters experiment.
The element which won a PAR Excellence Award, was chosen for an upcoming Cirque du Soleil production.
For more information, call 510-486-1166, fax 510-486-8356, e-mail winnie@meyersound.com or visit www.meyersound.com. Become a fan of Meyer Sound on Facebook: www.facebook.com/meyersoundlabs.
TMB: Schnick Schnack Systems Gives The Voice an Accent
When the chairs spin on NBC's The Voice, they are lighed by Schnick Schnack Systems's LED accent lighting. The company's products are exclusively distributed in North America by TMB.
Schnick Schnack Systems' camera-friendly, calibrated colors light the triangular podium on the front of each judge's chair. When a critical red decision button is pushed, the LEDs behind the Plexiglas podium change colors and the chair spins around.
Learn about other innovative products from TMB at www.tmb.com.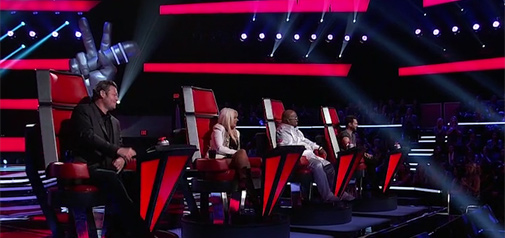 L-ACOUSTICS: Adds Controller to Product Series
L-ACOUSTICS recently added the LA4X amplified controller to its amplified controller series.
The LA4X is based on a four input by four output architecture combining the benefits of self-powered speaker packages with the flexibility of outboard DSP and amplification. It is a "green" amplified controller that relies on a universal switch mode power supply suitable for mains from 90V to 265V.

Vectorworks, Inc.: Updates Spotlight Plot Handbook
An updated edition of Light Plot Deconstructed for Vectorworks Spotlight, written by scenic and lighting designer Gregg Hillmar, is now available.The guide functions as a companion handbook to the software to help readers draft light plots more easily.
An image of the book cover can be downloaded from the company's Flickr page.
More information about this and other Vectorworks tutorials can be found on its Training Guides page.
Stagecraft Institute of Las Vegas: Summer Slots Filling Quickly
Stagecraft Institute of Las Vegas still has slots available for its 2013 program.
Scheduled to begin June 10, weekly subjects include: Week 1 – CAD; Week 2 – Rigging; Week 2 – SFX; Week 3 – Automation (seven spots); Week 3 – Foam Arts (four spots); Week 4 – Audio; Week 4 – Make-up & Prosthetics (two spots); Week 5 – Lighting Tech (seven spots); Week 6 – Previsualization (three spots); and Weeks 7 and 8 – Movers & Digital Media (three spots).
Register at stagecraftinstitute.com.
International Alliance of Theatrical Stage Employees: Union Reaches Agreement, Elects Trustee
After a lengthy process spread over five months, the International Alliance of Theatrical Stage Employees (IATSE) International and The Broadway League/Disney Theatrical Productions have reached a tentative agreement for a new three-year contract. IATSE also elected Patricia White as an International trustee.
In addition to wage increases, a primary goal for IATSE negotiators was to address challenging travel conditions faced by workers on tours. Thus, the agreement includes premium pay for load-outs on multiple show days and for travel after a short-rest period, first time additional pay for make-up artists and hairstylists traveling on a seventh day, and first-time overage participation (i.e. bonus) for workers on successful tiered tours. The agreement includes significant employer contributions to the health and pension plans for workers on tiered tours and wage increases for workers in all categories. It also includes employer contributions to the IATSE Training Trust.
Ms. White has been an IATSE member since 1986 when she joined ACT as a wardrobe employee. She transferred into Theatrical Wardrobe Union Local 764 in1989, where she has served as a trustee and officer since 1995. She is currently the president of Local 764.
Ms. White is department director of education and training and works to promote the education of IATSE local leaders through the LEAP Program, union skills education at conventions, and IATSE staff training. She serves as a member of the ETCP Certification Council.
An international representative since 2007, she has worked with many locals of all types, but especially closely with wardrobe locals, to assist them in building stronger local unions and in representing the workers in negotiations with employers. She will join Thomas J. Cleary (Local 2) and C. Faye Harper (Local 834) as an IATSE International Trustee.