Conference & Stage Expo
Stage Expo Plants the Seeds for a Strong 2014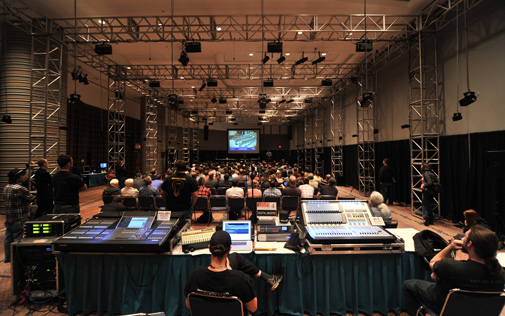 USITT's Stage Expo took giant steps in Milwaukee. Manufacturers from all areas of the entertainment and production industries were represented. This was the result, in part, of a near world tour. Representatives from the National Office visited the Audio Engineering Society show, the National Association of Music Merchandizing show, the Sewing Dealers Trade Association show, LDI, PLASA PALM, and many cities promoting the growth of Stage Expo and USITT's networking and education opportunities.
As a result, the 2013 event grew 11 percent in size and scope. The goal of Stage Expo is to bring manufacturers and service providers in theatre and live entertainment production industries to the managers, designers, and technicians who use these products and services daily.
USITT representatives found some manufacturers were surprised to learn that their products are being used in the entertainment industry. Sewing machine manufacturers were made aware of the various departments that utilize their machines. Safety product manufacturers were told the extent of use for their products.
The emergence of greater technology in media servers and projection technology has gathered much attention. More of these sorts of companies will become part of USITT in the coming years as the cost of some technologies decreases, and making some more affordable, smaller in size and stronger in reliability.
The 2014 will mark the return of Sound Lab. While USITT begins to focus on companies at Stage Expo, we are making room for a greater audio presence. Microphone, audio mixer, and speaker companies are being courted to participate in an expanded Sound Lab, which will have a close relationship both in proximity and programming in Fort Worth. Programming is underway and will excite those audiophiles in the USITT community.
USITT is an all- encompassing gathering of the theatre and live entertainment industries; and Stage Expo is the personification of this. The seeds we plant this spring will sprout with the best event ever in March 2014!