News & Notices
Nominate for Awards Online Now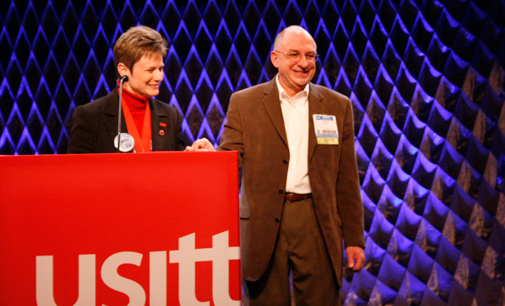 As of June 1, nominations may be submitted online for the five Special Achievement Awards: the USITT Award, the Joel E. Rubin Founders Award, the Thomas DeGaetani Award, the Honorary Lifetime Membership Award, and Special Citations.
Any USITT member may nominate an individual for one of these awards. Nominations will be accepted online from June 1 through July 1. The Awards & Resolutions Committee will review all completed nominations and recommend recipients to the Board of Directors for consideration at its mid-August meeting at which the Board will vote on the recommendations.
Questions about the nominations forms or process should be directed to Shannan Hoerger shannan@usitt.org, USITT Member Services Associate; Michael Mehler mmehler@allegheny.edu, Chair of the Awards & Resolutions Committee, or any other member of the committee.
The USITT Award, the highest honor given by USITT, recognizes a lifetime of distinguished contribution to the performing arts or entertainment communities in any capacity. Recipients need not be members of nor have any connection to USITT.
The Thomas DeGaetani Award, named in honor of the first USITT president, honors an outstanding lifetime contribution to the performing arts or entertainment industry by an individual or a performing arts/entertainment-focused organization living and/or working in a particular region of the country, generally near the location of the Annual Conference & Stage Expo. Traditionally a nomination for this award originates from regional representatives on the Conference Committee and members of the Regional Section.
The Joel E. Rubin Founder's Award is presented to a USITT member in recognition of outstanding and continued service to the Institute. This award is named in honor of Dr. Joel E. Rubin, a founder and the second president of the Institute.
The Honorary Lifetime Membership Award is bestowed to a small but very distinguished group of individuals who have been recognized for providing a significant period of years of continuous and extraordinary service to the Institute.
A Special Citation recognizes outstanding achievement in any area of the performing arts or entertainment industry by an individual or an organization. This recognition is used for an acknowledgement that does not seem to the nominator or the Committee on Awards and Resolutions to fall into one of the established award categories.
Click here to find more information about these awards and past recipients.