News & Notices
Next USITT Presents June 3 in Florida
USITT's goal of bringing its members year-round training opportunities continues with the next session of USITT Presents, the new series of hands-on workshops with industry leaders across the country, deeply discounted for members.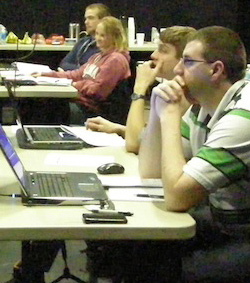 USITT Presents: How to Blend LED with Traditional Fixtures is a daylong session by Chauvet Professional on June 3 at the University of Miami, Miami, Florida. Ford Sellers, senior product development manager for Chauvet Professional, will demonstrate how to transition and replace existing stage lighting with energy-saving LEDs. For more information or to register for the Chauvet training, visit www.usitt.org/chauvet.
The class covers LED basics, fixture types, theatre applications with Lekos, strips, Fresnel lenses, and cycs; as well as design concepts and expert advice, plus three hours of hands-on practice with Chauvet tools. The cost – including lunch – is just $50 for USITT members and $25 for student/early career members. (Fees double for non-members.)
USITT kicked off USITT Presents early this year with two classes -- a Meyer sound mixing class in Nashville, Tennesee in February, and a two-day Studio Gear HOG 4 training in Milwaukee, Wisconsin leading up to USITT's Annual Conference & Stage Expo. Both classes sold out.
"We had eight spots for the Studio Gear training and 10 people showed up," said Stage Expo Manager Ron Procopio. "We set the Meyer training for 20 spots and 24 people showed up. Both Meyer Sound and Studio Gear have expressed interest in doing more training with us."
Other sessions in the planning stage include a class on projection with Panasonic August 19 in San Francisco, California and media server training with TMB August 19 in Los Angeles. USITT is working with other partner companies to provide more training in audio, lighting, video, and rigging.