News From
Sustaining Members
Terex USA: New Sustaining Member
USITT welcomes Terex USA, manufacturers of Genie lifts and work platforms, as a new Sustaining member. The Genie division, based in Redmond, Washington, prides itself on its equipment designed for reliability, easy operation, convenient service, and uncompromising safety as well as service and support tailored to each customer.
Learn more at www.genielift.com.
Saginaw Valley State University: Joins Sustaining Ranks
We also welcome Saginaw Valley State University as a new Sustaining member. Its facilities include the Malcolm Field Theatre for Performing Arts, the Lillian R. Sahnow Outdoor Amphitheatre, and the Rhea Mill Recital Hall along with a black box Studio Theatre in Curtiss Hall.
For more information on the faculty and programs, visit www.svsu.edu/theatre.

International Alliance of Technical Stage Employees: Charters Two New Locals in Newfoundland
International Alliance of Technical Stage Employees (IATSE) recently issued charters for two new locals: Local 709 (Mixed) and Local 671 (International Cinematographers Guild) in Newfoundland, Canada. A celebration was held and it seemed all of Newfoundland came for the party. Local producers welcomed the new locals, including Republic of Doyle producer John Vatcher, who also happens to be a charter member of the new camera local. All were welcomed by officers and members from Locals 849, 667, 709, and 671.
For many years, Locals 849 and 667 have served as the bargaining agent for motion picture technicians and camerapersons in the provinces of Newfoundland and Labrador. As of April 2, members of Locals 849 and 667 who reside in Newfoundland and Labrador have the option to transfer their memberships to the new locals.
Nemetschek Vectorworks, Inc.: New Mobile Cloud Software, and More...
Nemetschek Vectorworks, Inc. has released a new version of the Vectorworks Cloud Services mobile application, Vectorworks Nomad 2.0, as well as made Vectorworks software available in China.
The 2.0 version of Vectorworks Nomad lets users view, share, measure, and annotate files. Enhancements include new redline drawing shapes, a sheet layer sidebar palette, angle and path measurement modes, improved download and upload performance and improved annotation text objects. The app can be downloaded from the Apple App Store and the Google Play Store.
Vectorworks Cloud Services is available to members of the Vectorworks Service Select subscription program. To learn more, visit www.vectorworks.net/cloudservices.
The 2013 version of Vectorworks software is now available in China and includes Vectorworks Designer, Architect, Landmark, Spotlight, Fundamentals and Renderworks. Visit www.vectorworks.cn/en/vw2013-chi-launch-register for more information. Visit www.vectorworks.net/international to find a distributor of a localized version of the Vectorworks family of design software created specifically for the architectural, landscape, and entertainment design industries.
Stagecraft Institute of Las Vegas: Jamming Toward SILV 2013!
The Stagecraft Institute of Las Vegas is gearing up for another exciting summer session.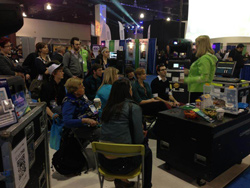 It will again offer a CM Hoist Certification Class through its partner Silver State Wire Rope. Foam Arts will see the expertise of Creative Foam Shapes of Las Vegas combined with the teaching and artistry of Dan Williams. Audio will be spearheaded by Meyer Sound and Solotech US to develop that session into a more fully hands-on experience. Moulage Make-up will expand the preparation of blood and guts to include gunshot and knife wounds, a class led by make-up designers Kris Hanssen and Nora Evans, Moulage Specialist for the Austin Police Department.
Leonard Miller of Philips Entertainment will launch the lighting sequence with Lighting Technology, followed by Valy Tremblay of Proluxon teaching PreViz with the newest and most creative applications of WYSIWYG, and finishing with Brian Gale and his team extraordinaire of designers and programmers who will lead the Movers and Digital Media two week class, which is expanding to include one-on-one sessions on the weekend. All the technologies come together with the Technicians Showcase on July 31.
There are still a few spots left, so check out SILV's full offerings at stagecraftintitute.com.
L-ACOUSTICS: Announces Appointment, Showcases Products
L-ACOUSTICS recently announced an appointment to its marketing team and showcased two new systems at Prolight + Sound 2013.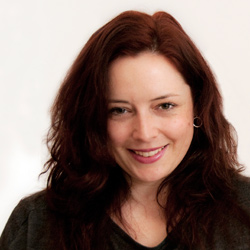 Emma Beer has been placed in charge of press and media. She previously focused on digital technologies and publishing for the higher education sector, as well as green growth and private sector development at the Organisation of Economic Cooperation and Development. In her new role as Communications Manager at L-ACOUSTICS, she will be responsible for strategic communications – developing media relations, managing external communications, and launching a new social media strategy.
At Prolight + Sound 2013, L-ACOUSTICS showcased two new systems – the 5XT ultra-compact coaxial enclosure and SB15m compact subwoofer – the first units of both are being shipped now. The newest and smallest member of L-ACOUSTICS' XT coaxial series, the 5XT is based on a two-way passive design with a nominal impedance of 16 ohms. Its design makes the 5XT perfectly suited to various distributed applications, as a main or fill system. Power and processing for the 5XT is delivered by the LA4/LA8 and the forthcoming LA4X amplified controller.
The 5XT ultra-compact coaxial enclosure was awarded LDI 2012's sole Debuting Product Award in the category of Sound.
Recommended for use with L-ACOUSTICS' KIVA and XT series enclosures – including the 5XT – the new SB15m extends the operating frequency range of these systems down to 40 Hz.
TMB: Controlling Spheres at 55th Grammy Awards
How do you control 28 four-foot lighted spheres suspended above award winners' "fun." at the 2013 Grammy Awards? Easy – with LumenRadio Receiver Cards inside each sphere, and a LumenRadio Flex transmitter located backstage – all exclusively distributed by TMB.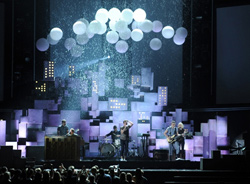 Conceived and produced by Moment Factory of Montreal, with content by Hubert Gagnon of Blackout Design, the fun. set was designed and built by Quebec-based Teksho. Featuring illuminated spheres rising from the stage floor like gigantic champagne bubbles in slow motion, the number climaxed with an actual on-stage rainstorm. LEDs inside each of the orbs were controlled by a grandMA2 at FOH, driving an NPU backstage, sending DMX to the LumenRadio Flex Transmitter. The Flex Transmitter sent wireless DMX to each of the frosted-white spheres, with continual control feedback of the entire wireless system.

TMB is the exclusive distributor for LumenRadio in North America and UK. For more information, visit www.tmb.com/lumenradio. Learn about other exciting products from TMB at www.tmb.com.