News & Notices
Announcements
TCG to Honor Designer, Producers at Gala
Theatre Communications Group (TCG), the national organization for theatre, will honor Ruth and Stephen Hendel and Ming Cho Lee with a Gala Evening on Monday, May 13, at the Angel Orensanz Foundation in New York City. The gala co-chairs are playwright Lydia R. Diamond and interior designer Jasmine M. Keller.
Ming Cho Lee received the USITT Distinguished Achievement Award in Education in 2006, and the USITT Award in 1992, among many other honors and accomplishments. He is the subject of a USITT monograph, The Designs of Ming Cho Lee, published in 2006.
"TCG is delighted to honor the deep contributions made to the theatre field by producers Ruth and Stephen Hendel, and designer Ming Cho Lee," said Teresa Eyring, executive director of TCG. "The Hendels' body of work as producers ranges from Fela! to Bengal Tiger at the Baghdad Zoo, and their contributions as trustees at TCG member theatres like Eugene O'Neill Theater Center, LAByrinth Theater Company, and The Play Company are immeasurable. The opportunity to celebrate their legacy alongside that of seminal designer Ming Cho Lee — and in the company of so many distinguished TCG playwrights — is not to be missed."
TCG will publish Ming Cho Lee: A Life in Design, a retrospective of his work by Arnold Aronson, in the fall. For more information, visit TCG's website.
Remembering Jarmila Gabrielov
We note with sadness the death on April 8 of Jarmila Gabrielov, a cornerstone of the Prague Quadrennial from its inception in 1967 through 2003. She worked for the Theatre Institute in Prague for almost 50 years, creating connections between theatre artists around the world. She, along with international colleagues and experts, was instrumental in founding OISTAT, which based its general secretariat in Prague, where she held the position of head of administration until 1993. She edited OISTAT's press materials and published some of them.
Personal memories or photos of Ms. Gabrielová are being collected. The material will be included in a book of tributes that will be given to her family and stored in the PQ Archives. E-mail PQ at pq@pq.cz.
New Rules for Hazards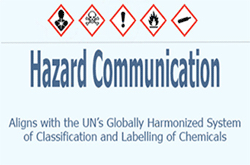 A new Federal regulation, going into effect on December 1, has changed how hazards are communicated. David Glowacki, USITT's Health & Safety Commissioner, shared the following graphic and information.
OSHA's Hazard Communication Standard is now aligned with the United Nations' Globally Harmonized System of Classification and Labeling of Chemicals. This update to the Hazard Communication Standard provides a common and coherent approach to classifying chemicals and communicating hazard information on labels and safety data sheets. The first deadline in the implementation phase is December 1, the date by which employers must train workers on the new label elements and safety data sheet.
A new fact sheet discusses the training topics that employers must cover for the initial deadline. OSHA has prepared a number of additional materials that explain the new changes to the requirements of the HCS, including QuickCards, fact sheets, a list of frequently asked questions, and a brief on labels and pictograms. These and other materials are available on OSHA's Hazard Communications page.
Inspired Teaching Sells Out at Stage Expo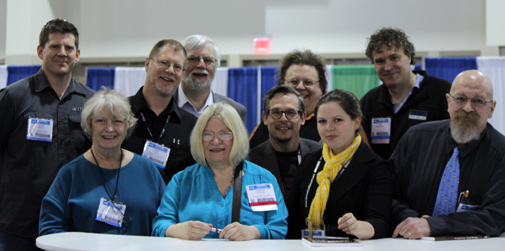 On March 22, at the USITT Marketplace booth on the Stage Expo floor, authors gathered to sign their articles in the newly published Inspired Teaching: Essays on Theatre Design and Technology Education. Edited by Erik Viker, of Susquehanna University in Pennsylvania, the collection includes 19 essays covering topics such as costume technology, sound, lighting, scenic art, and outcome assessments. Copies were available at the USITT Marketplace, and all copies of the first printing sold out. A second printing has been ordered and copies can be obtained from the USITT store.
Technical Standards Now Available for Free
All PLASA Technical Standards are now available for free download, thanks to a new alliance with ProSight Specialty Insurance. PLASA partnered with ProSight because it shares PLASA's commitment to making sure everyone who attends or works on an entertainment event, from a live show to a film shoot, goes home safely at the end of the day. This collaboration significantly affects the industry by allowing those involved in creating entertainment events free access to standards that will make their lives safer and easier.
To immediately start downloading free Technical Standards, visit tsp.plasa.org/freestandards.
ProSight, a global specialty insurance carrier in the film and live events industry, also recognizes the skill and professionalism associated with the Entertainment Technician Certification Program and therefore offers preferred rates on insurance solutions to companies who employ ETCP Certified Technicians. To learn more about how PLASA and ProSight are working together, visit plasa.prosightspecialty.com.
USITT provides both financial resources and support to PLASA's Technical Standards program which was created to protect lives, prevent accidents, save money, solve problems, and encourage creativity. With that in mind, ProSight and PLASA are developing and sharing strategies to reduce risk across many areas of the entertainment industry and promote public safety.
Public Can Review Portable Stage Standard
BSR E1.21 - 201x, Entertainment Technology – Temporary Ground-Supported Structures Used to Cover the Stage Areas and Support Equipment in the Production of Outdoor Entertainment Events, is in review through May 27. All people with a material interest in stage roofs and other portable structures used in outdoor events are invited to review the draft document and to offer comments. It may be downloaded for free at tsp.plasa.org/tsp/documents/public_review_docs.php.
For more information, contact Karl Ruling, PLASA's technical standards manager, at karl.ruling@plasa.org.
CITT to hold Rendez-vous in Calgary
CITT 23rd Rendez-vous Annual Conference and Trade Show will take place August 15 to 18 in Calgary, Alberta.
Events during the conference week include pre-conference workshops August 14 and 15 ; Newcomer Meet & Greet Reception followed by Junk Challenge August 15; Corporate Day with the CITT Trade Show, Swag Bingo Live, and Silent Auction August 16; Professional Development Day with Awards Banquet August 17; and Forum Day, sponsored by Mirvish Productions, August 18.
Backstage at the Banff Centre (to be confirmed) will be held on Sunday, August 18 in the afternoon.
The CITT Trade Show will be held Friday, August 16, at the Southern Alberta Jubilee Auditorium (SAJA) stage. Located next to the Southern Alberta Institute of Technology (SAIT), and the Alberta College of Art and Design (ACAD), the Jubilee Auditorium stands beside panoramic views of the city and the majestic Rocky Mountains.
The Trade Show floor will be free to the public 1:30 to 5:30 p.m. No regular conference sessions are planned during the show. Booth spaces will be allocated on a first-come, first-served basis, with priority given to CITT members. There are over 30 10-foot by 10-foot booths as well as table top displays available. Click here for more information on the Trade Show.
To view the floor plan, click here.

The LRLR Celebrate 10 Years with Raffle, Donations to Behind the Scenes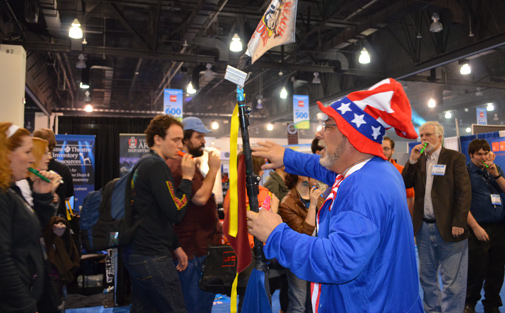 The Long Reach Long Riders celebrated their 10th anniversary with a raffle and live auction to benefit Behind the Scenes during the USITT Conference in Milwaukee. Sales of raffle tickets and BTS and LRLR-branded swag raised just over $12,000 for the charity, a 25 percent increase over last year's event. Master of ceremonies Bill Sapsis threw out a last minute challenge to the crowd; if they came up with at least $500 in the last few minutes before the raffle, he would double that with a $1,000 donation. The crowd happily rose to the challenge and made Bill pay up.
The winners and their prizes are:
Brian Gilmartin — Grand Prize, Vectorworks Spotlight with Renderworks
Scott Garey — Stage Technician's Kit from BMI Supply
Fran Sutherland — $250 Visa Gift Card from Daktronics
Megan Henninger — DMX USB pro MK2 with Case from ENTTEC
Karen Brown-Larimore — Kindle Fire from InterAmerica Stage
Roger Bardwell — 16GB Wi-Fi iPad Mini from iWeiss
Eileen Devany — 50 Sheets of Gel from Lee Filters
William Hanna — $250 Gift Certificate at rosebrand.com
Jeff Mateer — $250 Gift certificate at Sapsis Rigging
Christine Wille — USITT 2014 Full Conference Registration
The large crowd gathered for the festivities enjoyed the traditional kazoo parade, special recognition of the Long Reach Long Riders who have raised over $350,000 for charity since their first ride to Long Beach 10 years ago, swag freebies donated by InterAmerica Stage and Teqniqal Systems, and a live auction. The auction included two tickets for the hard to get The Book of Mormon along with a backstage tour donated by IATSE Local One and beautifully handcrafted pens, wine stoppers, and seam rippers from Shan and Trish Ayers which were highly prized by the winners.
Mr. Sapsis highlighted the companies who have signed up for the Behind the Scenes Pledge a Product Program which allows a company's employees and customers to participate in supporting the charity. Rosco made a $2,540 donation from the proceeds from the sale of Roscolux #359 Medium Violet bringing the five-year total to $12,731. Electronic Theatre Controls surprised everyone with a check from the proceeds of the iRFR smart phone app, presented by the app's developer, Chris Mizerak. TMB was recognized for its recent pledge of ProXS Professional lighting fixture accessories, Apollo Design Technology for the Apollo BTS Wrench, and Lex Products for the Bento Box series.
Special thanks go to USITT for making LRLR's presence at the show possible; to Moe Conn, Patt and Frank Stewart, Alice Neff, and Greg Williams for their invaluable help.