Conference & Stage Expo
J. R. Clancy and USITT: Keeping Students Safe Backstage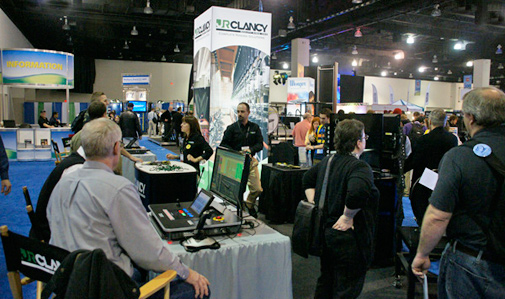 When J. R. Clancy, Inc. became one of the first corporate members of USITT back in 1962, the company had a significant goal in mind: reach students and teachers at every level of education with information about using theatre rigging safely.
Every year at the USITT Annual Conference & Stage Expo, Clancy brings attendees news and demonstrations of new products — like this year's introduction of the SceneControl 5300 rigging control console, which puts new levels of capability into the hands of school and college operators.
When students visit the Clancy booth, they also learn something about backstage safety. "Our mantra is, 'Train, Inspect, Maintain,' and we bring that message to the Stage Expo every year," said Clancy service manager Anthony Seifritz. "That's why we became the founding sponsor for USITT's Rigging Safety Initiative, a program to provide free or reduced cost rigging inspections to secondary schools throughout the country."
Stage Expo also provides Clancy with the opportunity to meet the next generation of school and university drama teachers, technical directors, production managers, and designers and acquaint them with products that meet and exceed 21st century expectations for high quality production. For the past two years, J.R. Clancy has also given a Conference session on "Counterweight Rigging 101" to reach out to students and theatre industry personnel on the importance of safe rigging operation, with a focus on training, inspection, and maintenance.
In 2013 and 2014, Clancy will introduce a wide range of products that address every aspect of flying weight over people's heads. USITT members can look forward to hearing more about additional extensions to Clancy's popular SceneControl family of rigging control systems. In addition to SceneControl and the performer flying hoists, Clancy has plans to introduce its new SureStop head block this year, as well as a front-of-house hoist, and a variable speed version of its groundbreaking PowerAssist hoist—the device that automates and controls the use of a counterweight rigging lineset.
"We go to Stage Expo to let students and teachers know that we not only bring innovative rigging products to schools and universities, but we also have students' best interests at heart," said Mr. Seifritz. "We're here to make safety top-of-mind with students who handle both counterweight and automated rigging. If they also remember us when they're in a position to purchase rigging solutions, that's proof that Stage Expo works. "