News From
Contributing Members
Rosco Laboratories: To Acquire GAM Products
Rosco Laboratories, Inc. has signed an agreement to acquire the assets of Los Angeles-based GAM Products Inc. The addition of GAM's widely regarded products such as GAMColor, GAM Patterns, Blackwrap, and TwinSpin, among others, will dramatically expand the creative solutions Rosco offers to designers, technicians, and artists.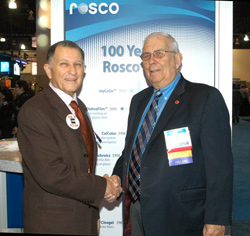 For more than 35 years, GAM has provided high quality lighting products to the theatre and film community. Rosco will continue to market and promote them worldwide through its extensive global distribution network. GAM was founded in 1975 by Joe Tawil and has pioneered a range of tools now considered to be indespensible to generations of lighting professionals. Founded in 1910, Rosco Laboratories provides unique and effective solutions to the global community of lighting professionals in entertainment, film, architecture, and photography. With 13 offices and over 600 distributors, Rosco products are available virtually anywhere in the world.
"GAM wanted its product legacy preserved and its remarkable products to continue to be available. Rosco wanted those GAM products to continue to be available as well – but in the Rosco style," Stan Miller, chairman of Rosco noted in a letter to employees. "And the Rosco style is to insure ready availability everywhere in the world through our several hundred dealers and distributors." 
Daktronics: Presents Acoustical Banner, Sells Equipment to Rental Partner
Daktronics presented its acoustical Banner hoist to attendees at the USITT Annual Conference & Stage Expo in Milwaukee, Wisconsin, and recently sold LED panels to its rental partner, Sideline Productions.
The new lightweight Banner hoist enhances Daktronics' full line of automated theatre rigging solutions. Along with the featured acoustical Banner hoist was Daktronics' Pro Series controller with a Vortek Classic hoist.
Rental partner, Sideline Productions, a large-screen video rental company, opened for business with the purchase of Daktronics PST-10 modular LED display panels. The company has successfully put the new equipment to use for several events including the Carrier Classic in South Carolina, the Boy Scout Encampment at Camp Cowles, and the ISOC Snocross Series of Champions.
Sideline Productions is a video production company that provides large-screen video display solutions for events of all sizes. By adding the latest in modular LED technology to its inventory, Sideline Productions has the tools to meet its clients' ever-changing needs, in any environment. Daktronics PST-10 panels feature a high-resolution, 10 millimeter pixel layout for close viewing and a durable, lightweight design to withstand the rental and staging environment. For more information about Sideline Productions, visit its website at www.sidelinemediagrp.com

Creative Stage Lighting: Presented Products at Stage Expo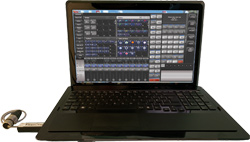 Creative Stage Lighting took advantage of its appearance at USITT's 2013 Stage Expo to show Avolites's Sapphire Touch, TITAN Mobile, and TITAN One. Avolites Media's PLASA award-winning media server Sapphire Media Infinity System also was at the CSL booth. Kinesys motion control, including the Kinesys LibraCELL load cell, the heart of Kinesys's Libra system, had a demo station at the CSL booth.
CSL welcomed Robe as its 2013 Stage Expo partner. Robe demonstrated its ROBIN 800 LEDWash, ROBIN DLX Spot, ROBIN, DLS Profile, and ROBIN DLF Wash.
CSL held a drawing for Avolites's TITAN One at the event.
Vincent Lighting Systems: Scott Latham - Triple ETCP-Certified

Congratulations to Vincent Lighting System's Scott Latham, who has earned his certification as ETCP - Rigging & Theatre. This makes him one of only 20 people in the United States and Canada who hold all three ETCP certifications.
Mr. Latham became ETCP-Certified as Entertainment Electrician in January 2012, then later that year earned his ETCP Certification in Rigging-Arena. He joined the Vincent Lighting staff in February 2011 and currently works as production specialist in its Cleveland office.
Companies Remain Separate
Mainstage Theatrical Supply, Production Advantage, Inc., and Vincent Lighting Systems have announced that they will not be combining at this time. In a special announcement, the companies noted, "Unfortunately, after much hard work on all fronts, we have decided it is in the best interests of the three companies to call the merger off at this time. There are simply too many hurdles to overcome, and it is time for all parties to focus our attention back to Mainstage Theatrical Supply, Production Advantage and Vincent Lighting Systems. We are disappointed, and we regret being unable to complete the transition to MainStage LLC as planned."
Rose Brand: Awards Scenic Design Scholarship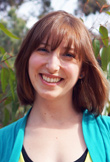 Natalie Khuen was named the winner of the Rose Brand Scholarship at USITT. She studies theatre design at the University of California in San Diego. She is described by her design professor as having boundless imagination and intelligence; an intuitive command of visual imagery along with a social-professional integrity rarely seen in designers her age. Her design experience includes productions such as Elizabeth I and Marat/Sade.
The final judging was by a panel of high profile experts in the industry, which included Donyale Werle, scenic designer and Tony award winner; Pete Happe, Walt Disney Imagineering Designer; Joe Celli, scenic and production designer and Primetime Emmy winner; and Adam Davis, owner of Tait Towers.
The Rose Brand Scholarship is awarded to a student in the amount of $5,000. A Rose Brand credit for $2,500 will also be given to the student's school to help enhance the theatre program. The scholarship is intended for students who wish to pursue a career in scenic design.
Meyer Sound: System Streamlines Loudspeaker Monitoring
Meyer Sound's new Compass RMS simplifies real-time loudspeaker monitoring (with video). The new hardware and software solution streamlines the real-time monitoring of Meyer Sound self-powered loudspeaker systems.
Building on Meyer Sound's remote monitoring technology, the new Compass RMS system features the RMServer, the purpose-built network hardware that communicates loudspeaker performance data over Ethernet and twisted-pair network. The control interface is now fully integrated into the Compass 3.0 software, which supports both Mac and Windows. Compass 3.0 also serves as the user interface for the Galileo loudspeaker management system and the CAL column array loudspeaker.
RMServer is backwards compatible with all Meyer Sound loudspeakers equipped with an RMS module. Compass RMS starts shipping in May. Visit the Meyer Sound website for more information.
Wenger Corporation: Creating A Breakthrough (and safer) Product!
Wenger Corporation's new StageTek staging system is an engineering breakthrough. The sturdy decks and interchangeable legs are a true advancement in strength, versatility, and ease of use: lighter decks and legs make transport and assembly easy on the back. Stronger load ratings ensure safety for pianos and other heavy props. The system is easier to assemble than comparable staging systems or stick-built platforms, and easier to grip and carry.
Call 1-800-4WENGER (1-800-493-6437) for more information!
ETC: Introduces New Products
ETC has announced a new arrival in the legendary Source Four family of lighting fixtures: the Source Four Mini. The company also introduced the new Eos Titanium (Ti) control desk, along with two new accessories: the RPU3 (Eos Remote Processor Unit 3) and Net3 RVI3 (Remote Video Interface 3.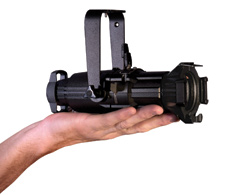 At only nine inches long and weighing just over a pound and a half, the Mini is the tiniest Source Four ever, but it still lives up to the family name. The compact size of the Source Four Mini means even more installations can have Source Four functionality. It has four field-angle choices and is available as a portable version with a miniature C-clamp or a canopy-mount design with an integral transformer. All models accept a range of accessories and include an E-sized pattern holder and a gel media frame. To learn more, visit www.etcconnect.com/Mini.
The new Eos Ti takes the place of ETC's flagship Eos desk at the head of the product line, with new hardware and features that make designing and programming even easier. The desk features 20 user-definable buttons, a backlit keyboard, motorized faders, and multiple USB and video ports. The common-sense programming syntax that the Eos family is known for is at home in Ti. Users can work from an abstract concept of a design or a straightforward command sequence. Ti's command line is fully integrated with direct selects and magic sheets, allowing seamless work from the keypad and the touchscreen controls.
A video demonstrating the benefits of ETC's new Ti control desk, RVI3, RPU3 and Eos v2.0 software is available on ETC's website, www.etcconnect.com.
ETC: Apply for LDI Sponsorship
Students can apply now for ETC's LDI Student Sponsorship, which awards deserving students an all-expense-paid trip to the LDI 2013 tradeshow, to be held November 22 to 24 in Las Vegas, Nevada.
Anyone studying lighting design, theatre technology, or a related field and who will be a graduate student or undergraduate senior at the time of the show is eligible to apply. The application – available at www.etcconnect.com/LDISponsorship – takes about 15 minutes to fill out. Applicants can either complete it electronically or print the form out and mail it to ETC. All applications must be received by May 10.
ETC will choose six finalists: five from North America and one internationally. Recipients get roundtrip airfare, hotel accommodations, all meals, a full LDI conference pass and exclusive swag, with all costs covered by ETC. Sponsorship students are given behind-the-scenes access to ETC's tradeshow booth and are given the opportunity for one-on-one mentorship by well-known professionals who provide advice, encouragement, and guidance. Another highlight is the student reception, where Sponsorship recipients can network with prominent designers, employers, consultants, educators, and journalists.
To apply, fill out an application at www.etcconnect.com/LDISponsorship. To learn more about the LDI tradeshow, visit www.ldishow.com.