Conference & Stage Expo
Stage Expo Expanding for 2013
The theatre and entertainment industry, like many others, is a growing field. New technologies and techniques bring opportunities for artistic exploration and innovative productions. Stage Expo has been the incubator for such innovations for more than 50 years. As an Institute, we're always searching to bring the newest and best products and services to those members who would best utilize them in their productions. Often times, attendees find items at Stage Expo they hadn't considered using or even know existed.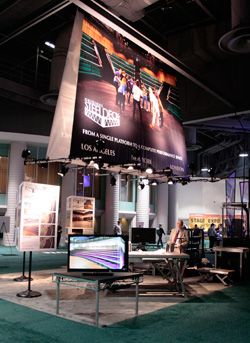 To accommodate the growth of the industry and the seemingly limitless new products and services, Stage Expo is growing, too. In Milwaukee, visitors will notice more than 9,800 additional square feet of expo space. New and returning companies range in fields such as rigging, audio, automation and video projection.
Following the success at Stage Expo 2012 in Long Beach of the sound lab, audio companies have a stronger need than ever to be in front of the USITT production managers and sound designers. Conference programming in 2012 described the importance and wide use of projection in set design and lighting. USITT's Annual Conference & Stage Expo areas work in harmony to showcase techniques and product use in the conference rooms; then introduce those providing companies on the Stage Expo floor to attendees.
While Stage Expo grows, organizers strive to keep the same intimacy and strong networking everyone expects to find at a USITT event. The lounge areas will still be prominent; the opening of the hall will still be exciting; but the noise on the floor may be a bit louder and aisles a little more crowded with all the new members and friends. Stage Expo in Milwaukee is sure to be the must-see spectacle that the past 53 years has been building toward.