News & Notices
Goodman to Give Keynote at Milwaukee Conference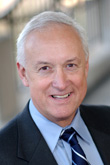 Rob Goodman, who founded and guided First Stage in Milwaukee for its first 25 years, will be the Keynote Speaker for USITT's 53 Annual Conference & Stage Expo.
Mr. Goodman has a wealth of experience in all aspects of theatre, was managing director of First Stage, one of Milwaukee's most successful performing arts groups, but he has also been a director, a stage manager, and knows how to create a season that draws an audience.
The First Stage umbrella includes both public and school performances, classroom activities, and theatre training for a variety of audiences.
David W. Will, USITT Vice-President for Conferences, noted that Mr. Goodman's broad range of work and life experiences help make him a dynamic speaker who will set the tone for the entire four-day event.
The Keynote by Mr. Goodman will open USITT's 2013 Annual Conference on Wednesday morning, March 20 at the Frontier Airlines Center in Milwaukee. The Keynote will also include USITT's Annual Meeting and presentation of awards.
For more on this and other sessions, visit www.usitt.org/2013.