News From:
Sustaining Members
Checkers Industrial Products, Inc. Expands Cable Protector Offerings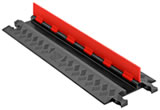 Checkers Industrial Products, Inc. has expanded its line of Guard Dog Cable Protectors to include eight new, low profile designs, four of which can have optional rubber pads added to them for increased traction. Guard Dog Low Profile is the industry's widest variety of compact, heavy duty, top-loading cable protectors.
New Feature for DMX Tool
After more than two years in development, ENTTEC has enhanced its signature DMX networking tool, the Datagate, by adding a Web-based, user-friendly graphical interface, and more. The newly released Datagate Mk2 is the most powerful Ethernet-DMX node on the market!
A leader in lighting control technology, ENTTEC created the Datagate Mk2 to improve the Datagate's existing functionality as a hub/splitter, merger, and Ethernet-to-DMX gateway, and expand its capabilities.
The Datagate Mk2 is on display in the showrooms of its headquarters in Melbourne, Australia, and at its new North American office and factory ENTTEC Americas, LLC which opened outside Durham, North Carolina in August.
For more information, go to www.enttec.com or contact Jeremy Kumin, general manager of ENTTEC Americas, LLC, at jkumin@enttec.com or 888-454-5922 (voice and fax).
Busy Summer for Sapsis
Like the temperatures this summer, the number of jobs completed by Sapsis Rigging, Inc. between Memorial Day and Labor Day set record highs. In addition to an unprecedented number of sales, there were eight full theatre renovations, three new construction projects, five fall protection system installations, four major special events projects, and 26 inspections.
The projects ranged from a new J-guide installation to a fall arrest system that included over 25 horizontal lifelines.
Firm Contracts for 'Dancing Water'
Sharks puppeteered by SCUBA divers, heart-stopping high dives, motorcycle stunts symbolizing time travel, pagodas and boats that emerge from submarine theatre wings, and 77 performance artists from 18 countries around the world; Franco Dragone's newest spectacular has been five years in the planning. The House of Dancing Water in Macau opened its doors September 17 to an eagerly-awaiting public.
The Dancing Water Theater is a 270-degree theater-in-the-round, with a central stage diameter of about 20 meters. The theatre houses around 260 automated fountains that spurt water up to 18 meters in the air, and a total of 11 hydraulic stage lifts and vomitory lifts that enable an artistic flow in performance from aquatic to conventional stage. Contracted by Theatre Projects, Stage Technologies provided a 141-axis whole house control and engineering system for the purpose-built venue.
Institute Offers Hands-On Approach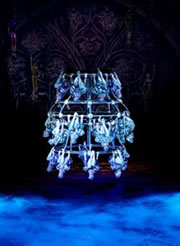 Anyone looking for a broad spectrum of experience will find it in Las Vegas. Starting with shows like Jubilee, developed nearly three decades ago and still running today, right up to Kà, Cirque du Soleil's biggest show which astounds audiences with its amazing mechanics and effects, entertainment technology has been defined by the Vegas model. Stagecraft Institute of Las Vegas (SILV) is dedicated to teaching by doing. All of the instructors at SILV are individuals who believe in the hands-on approach. They are also all working professionals who know what is important and are dedicated to sharing their experiences with the students. This summer's offerings include eight, week-long classes and, for the first time, seven special weekend classes to choose from.
LEEDs Green Building Movement
Leviton/NSI/Colortran's global headquarters is the first commercial interior on Long Island, New York to achieve LEED (Leadership in Energy & Environmental Design) certification. In a ceremony held at the company's Melville headquarters, USGBC-LI (United States Green Building Council-Long Island) Chapter Chairman Vince Capogna presented Leviton CEO Donald J. Hendler with a LEED certification plaque to recognize the building's compliance with the LEED green building standard. The ceremony was held in conjunction with the USGBC-LI's monthly educational program, which focused on how the building was designed to comply with the LEED sustainability standard.