News From:
Around the Institute
USITT at LDI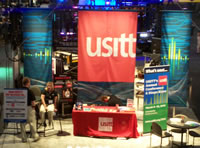 USITT staff members were able to tell many people about the organization at LDI 2010, thanks to the highly visible USITT booth, featuring lighting and banners hung from the Steeldeck truss. We thank Philip Parsons of Steeldeck for his outstanding support which made this possible.
Congratulations to USITT Fellow Bill Sapsis on receiving the Eva Swan award and Contributing Member J.R. Clancy for a Rock Our World Award from ESTA during their dinner held in conjunction with LDI. Congratulations also to many members, including MDG and ETC, for their awards at LDI.
More information about the LDI 2010 will be included in the December issue of Sightlines.
Hoffer on Fulbright Trip
Heidi Hoffer is spending the year as a Fulbright Traditional Scholar at University of the Witwatersrand, School of the Arts, Johannesburg, South Africa. She is professor of theatre and resident designer at Oklahoma State University.
A Meeting of the Finkelsteins!
We received an update from Richard Finkelstein, known to many for his photography at the Annual Conference, Prague Quadrennial, and regional events, including photos of the recent Chesapeake Regional Section meeting. We have asked about the "other" Richard Finkelstein in the theatre world. He tells us "Alas I don't have a face-to-face photo but I have now met him." That Richard Finkelstein, Shakespeare scholar and dean of the host venue, introduced the keynote speaker for the section.
Said Richard, the photographer and head of design at James Madison University, "Before even the internet, while I was teaching in the SUNY system, I surmised I had a twin because I kept receiving ghost retirement benefit forms for a Richard Finkelstein at another SUNY institution.  Then in early summer my Google Alert chimed that "Richard Finkelstein was newly appointed as a Dean at the University of Mary Washington".  I emailed Richard Finkelstein to welcome him to Virginia and to suggest that as we are following each other from state to state, the next one of us that moves should make the move to Hawaii.
"By the way, there is a third Richard Finkelstein, the CEO of Universal Studios! Us other two have yet to meet him."
Irene Corey
Irene Corey, noted designer and winner of the USITT Award in 2007, died Wednesday, October 13, 2010. Ms. Corey's long and distinguished career in costume design was reprised in a special exhibit at Stage Expo in 2007. A more complete tribute will appear in the December issue of Sightlines. Condolences may be sent to her niece, Suzanne Lockridge, c/o the Irene Corey Design Studio, 5304 Junius, Dallas, TX, 75214
Laura Crow Honored by Alumni
Laura Crow, head of OISTAT's Costume Working Group, was honored for Faculty Excellence in Research in the Humanities and Social sciences by the University of Connecticut at the Annual Alumni Association Awards Celebration.
The Kennedy Center Seeks Inspirational Teachers
Know someone who is an inspirational teacher? The Kennedy Center has announced the establishment of the Stephen Sondheim Inspirational Teacher Awards to spotlight some of the United States' most inspirational teachers and recognize them for their contributions. The awards were created in honor of Mr. Sondheim's 80th birthday and were initiated and funded through the support of Freddie and Myrna Gershon.
Each year, the Kennedy Center/Stephen Sondheim Inspirational Teacher Awards will solicit nominations for stories about teachers and professors who made a significant difference in lives.
On March 22, Mr. Sondheim's birthday, a select number of these teachers will each receive the Kennedy Center/Stephen Sondheim Inspirational Teacher Award, a cash prize of $10,000. Awardees will also be showcased, along with the people they inspired, on the Kennedy Center/Stephen Sondheim Inspirational Teacher Awards website.
Visit the Kennedy Center website for complete program guidelines.
Lighting Designer Named to University Chair
Jill Mulholland, project coordinator for International Association of Lighting Designer's Education Trust, has been named the Baker Chair for the Winter Term at the University of Oregon. The Frederick Charles Baker Chair is a position of merit that brings distinguished faculty to the University of Oregon or recognizes the work of current UO professors in the field of lighting design.
The Baker Fund was established by an endowment gift to the School of Architecture and Allied Arts at the University of Oregon in 1986 as a memorial to Frederick Charles Baker (1887-1981), a distinguished designer and manufacturer of lighting fixtures. The primary resource available to the community is the Baker Lighting Laboratory.
Gener Wins Journalist Award
Congratulations to Randy Gener of American Theatre magazine and a member of the USITT/USA PQ 2011 Committee on his recent honor. Mr. Gener was named Journalist of the Year by the National Lesbian & Gay Journalists Association for his work as a writer, editor, critic, playwright, and visual artist. The NLGJA's Excellence in Journalism Awards were established in 1993.
Award judges noted "Some of the best journalism is being done outside of traditional newsrooms and by people covering niche areas. Mr. Gener's writing on theatre, especially as it interacts with LGBT lives, is beautifully done, knowledgeable, and almost lyrical in its language."
Michael Patrick Neelon
USITT regrets to inform members of the death of Michael Patrick Neelon on September 11, 2010. He was 59. Mr. Neelon was designer and technical director at Holy Name High School and designer and technical director at Padua Franciscan High School. He had previously been designer and technical director at Notre Dame College. Survivors include two sisters, five brothers, and nieces and nephews.