News & Notices
101 Things to Do in Charlotte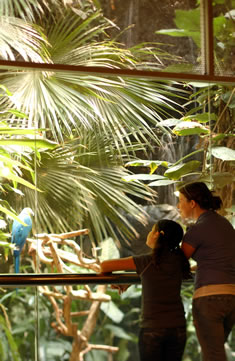 If you think Charlotte is just another southern city, think again. This is a city on the go with a little something for everyone planning to attend the 51st Annual Conference & Stage Expo from March 9 to 12. Decide to attend the Conference before December 1 and take advantage of Very Early pricing for the 2011 event in the Queen City. Following is a list of 101 things to do in Charlotte in case you bring the family or plan to stay an extra day or so. The list is reorganized into 10 categories, but the original can be found here.
Adventure
1.
Experience one of the world's most unique outdoor adventure attractions at the U.S. National Whitewater Center. Complete with class III-IV rapids, hiking and biking trails, one of the largest climbing surfaces in the nation, and an 1,100 ft. Mega Zip line, the facility draws everyone from Olympic-caliber athletes to nature novices. www.usnwc.org
2.
The Dirt Track Racing School offers both racers and racing fans alike the chance to drive on dirt in three different types of racecars. Students can drive an open-wheel Modified, a Late Model and a Sprint Car. Classes do not require any prior racing experience. The Dirt Track Racing School holds its classes just 25 minutes from downtown Charlotte and 45 minutes from Charlotte Motor Speedway at Carolina Speedway in Gastonia, NC. To learn more about the Dirt Track Racing School, visit our website or call 704-728-2969.
3.
Before the forty-niners struck it rich on the West Coast, Charlotte was the site of the nation's first gold rush. Conrad Reed was one of the first, stumbling upon a 17- pound nugget that he sold for a paltry $3.50 before he realized its true value. Try to score your own treasure by panning for gold at Reed Gold Mine. www.reedmine.org
4.
The Richard Petty Driving Experience puts you in the fast lane. Ride shotgun with a professional driver, or train and get behind the wheel yourself, racing at speeds of over 160mph. www.1800bepetty.com
5.
Victory Lane Indoor Karting Center offers a 1/3 mile European-style indoor road course with specialty karts made in Italy by SODI Kart that average speeds of 35mph. www.377fast.com
6.
Take the family to NASCAR SpeedPark and renew sibling rivalry on five scaled race tracks. The premier track at NASCAR SpeedPark, Mini-Motor Speedway, features a quarter mile oval and 5/8 scale Sprint style cars. Miniature golf is also available. www.nascarspeedpark.com
7.
Home to sailboats, speedboats, pontoon boats and impressive cruisers, Lake Norman is the largest man-made lake in the Carolinas. From spirited tie-up parties bobbing along the shoreline to a selection of dockside watering holes perfect for a leisurely afternoon, this 34-mile long lake can't be beat. www.visitlakenorman.org
8.
The Carolina Renaissance Festival brings together six acres packed with purveyors of good eats and spirits each October and November. After eating and drinking, be merry with ten stages of music and comedy shows, jousting, and a lively festival village with hundreds of costumed characters. www.royalfaires.com
Nature
9.
Get swept away with natural beauty at Daniel Stowe Botanical Garden, featuring 110 acres of themed gardens, a dozen sparkling fountains, a spectacular Visitor Pavilion, and a striking Orchid Conservatory. www.dsbg.org
10.
Tour the Carolina Raptor Center's bird hospital and get a sneak peek at what happens behind the scenes, from the patient's initial exam to strengthening their wings in outdoor flight cages. www.carolinaraptorcenter.org
11.
Relax and enjoy the serenity of Wing Haven, a unique part of Charlotte since its creation in 1927. The gardens and bird sanctuary, enclosed on all sides by brick walls, encompasses three acres in the heart of Myers Park. www.winghavengardens.com
12.
When it comes to camping, leave the heavy lifting to the experts at Mecklenburg County Park and Recreation. Their Rent-a-Tent sites at McDowell Nature Preserve are assembled for visitors and come with a tent, cots, fire ring, grill, picnic table, and more with a bargain price tag under $50 per day. www.parkandrec.com
13.
Travel back in time at Latta Plantation and Nature Preserve. Once a thriving cotton plantation, the Latta is now a living history farm. Experience what life was like in the North Carolina back country during the 19th century and visit the Latta Nature Preserve for a look at natural beauty in the Carolinas. www.lattaplantation.org
14.
Twice a year, The Park transforms for consumer shows that draw thousands for decorating tips, one-of-a-kind finds, and more. Don't miss the Southern Christmas Show each November and the Southern Spring Home & Garden Show each March. www.southernshows.com
15.
Giddy up! Take a horseback ride at the Latta Equestrian Center. Guided trail rides and individual and group riding lessons are available here. www.parkandrec.com
16.
Charlotteans are undecided on the best place to see the city skyline. While there's no definitive destination that lays claim to the official title, there are plenty of spots around town worth taking in the view. At the runway overlook at Charlotte Douglas International Airport, planes take off and land right in front of you, while shady trees, picnic tables and benches are great for admiring Charlotte's skyline in the distance. www.charlotteairport.com
Family Fun
17.
Reflecting an original approach to education, learning and the arts, ImaginOn: The Joe & Joan Martin Center is a 106,000 sq. ft. facility that serves as an unprecedented resource for families. Programs create a synergy between educational drama experiences and the critical skills of reading unlike any in the country. www.imaginon.org
18.
The Intimidator adds to Carowinds' menacing roster of roller coasters in 2010. Named for Dale Earnhardt, the looping, 75mph behemoth is the Southeast's tallest, fastest, and longest coaster. Also new to the park, Charlie Brown and the Peanuts gang will unveil Planet Snoopy in the park's re-themed kids area. www.carowinds.com
19.
One of the Carolinas' most visited attractions, Discovery Place has revamped its wondrous halls to make way for bigger and better science lab stations, a larger aquarium, and a digital 3-D theatre. www.discoveryplace.org
20.
Get up close and personal with giraffes, buffalos, zebras, and more in your own private safari at the Lazy 5 Ranch in Mooresville. Travel through the friendly confines of this 3.5-mile zoo in the comfort of your own vehicle or by horse drawn wagon to check out more than 750 animals from six different continents. www.lazy5ranch.com
21.
Beat the heat…or cold at Ray's Splash Planet, a 29,000 square foot indoor water park and fitness facility. The water park is loaded with fun features: a double figure eight waterslide, water squirters, a lazy river, and tumble buckets. www.rayssplashplanet.com
Theatres
22.
Experience Broadway blockbusters with the NC Blumenthal Performing Arts Center's Broadway Lights Series. 2010 season performances include smash hits like Mary Poppins, Wicked, and Jersey Boys. The Performing Arts Center has six performance spaces: the 2,100-seat Belk Theater; the 1200-seat Knight Theater; the 730-seat McGlohon Theatre; the 444-seat Booth Playhouse, the 182-seat Duke Energy Theatre; and the Stage Door Theater which seats 150. The Center presents the Broadway Lights Series, featuring national touring Broadway productions and a wide range of special attractions. Additionally, the Center's Education Department and Community Programs Division develop innovative partnerships with schools and community organizations to bring the performing arts to life for people throughout the region. The Center is home to the seasons of the Charlotte Symphony Orchestra, Opera Carolina, North Carolina Dance Theatre, Carolina Voices, the Carolinas Concert Association, Queen City Theatre, Community School of the Arts, and the Light Factory. www.blumenthalcenter.org
23.
For over half a century, Children's Theatre of Charlotte has been opening young minds to the wonders of live theatre, encouraging kids to travel as far as their imaginations can carry and teaching valuable life lessons. www.ctcharlotte.org
24.
The North Carolina Dance Theatre, now in their 40th season, will reach new heights during the 2010 season with time-honored ballets like Cinderella and the Nutcracker. www.ncdance.org
25.
Rock out with your favorite musical performers at Verizon Wireless Amphitheatre, Charlotte's open-air music venue attracting the nation's hottest stars for rocking shows under the stars. www.livenation.com
26.
Nationally-acclaimed conductors Christof Perick and Albert-George Schram lead the Charlotte Symphony Orchestra in its popular Classics and Pops series. The engaging Pops series brings together the Charlotte Symphony with special guests such as Kathy Mattea and Bernadette Peters each season. Don't miss a high note each June when Charlotte Symphony Pops in the Park returns for Sunday summer concerts. Themes embrace everything from Italian overtures to movie soundtracks, while the lawn brims with hardcore picnickers who share expansive spreads of fine wines and finger foods. www.charlottesymphony.org
27.
Find inspiration with NarroWay Productions. NarroWay offers dynamic Christian musicals and dinner theatre ranging from World War II dramas to Christmas pageants to Western whodunits. www.narroway.net
28.
With top events and performances ranging from rock concerts to monster truck rallies, Bojangles' Coliseum has been a Charlotte landmark since 1955. www.bojanglescoliseum.com
29.
Two powerhouse venues in Center City put the 'music' in the NC Music Factory. The chandelier and red velvet adorned Fillmore accommodates over 2,000 fans for shows like Blues Traveler and BB King. Next door, the Uptown Amphitheatre holds 5,000 with elevated lawn seating and a backdrop of the city skyline. www.ncmusicfactory.com
30.
A primary venue for NC Dance Theatre (currently celebrating its 40th anniversary!) and Opera Carolina, the Knight Theater is an intimate setting for artistic grandeur. www.blumenthalcenter.org
31.
Experience live music, an art gallery, and a latte at The Evening Muse. The Muse features original artists in a wide variety of genres. www.theeveningmuse.com
32.
Ovens Auditorium hosts traveling Broadway musicals, national touring comedy acts and popular musicians. Surrounded by its trademark fountains and rose gardens, Ovens Auditorium is truly among the finest Charlotte landmarks. www.ovensauditorium.com
33.
At Central Piedmont Community College's Dale F. Halton Theater, education meets entertainment. Catch theatre, music and dance productions throughout the year in the Elizabeth neighborhood. www.halton.cpcc.edu
34.
Bravo! Opera Carolina is the largest professional opera company in the Carolinas and entertains the region through outstanding operas as well as education and outreach programs. Check out their programming at the new Knight Theater. www.operacarolina.org
Museums
35.
The Billy Graham Library combines iconic memorabilia and multimedia technology to transport visitors into the life and faith of the beloved evangelist. A country kitchen and replica of Graham's boyhood home complete this not-to-be-missed experience. www.billygraham.org/library
36.
A breathtaking new facility for the prestigious Mint Museum plants roots in Center City, combining the renowned Craft + Design collection with its Contemporary, American, and Romare Bearden collections. www.mintmuseum.org
37.
Historic Brattonsville, in nearby McConnells, SC, is a 775-acre living history village with 29 historic structures, a battlefield site, and living history programs where docents "relive the past" by hosting a variety of themed days. www.chmuseums.org
38.
Once the location of the first branch of the United States Mint, the Mint Museum of Art is a rich and diverse resource with noted collections of American and pre-Columbian art, American and European ceramics, and contemporary art and photography. www.mintmuseum.org
39.
An astounding collection of mid- 20th century modern art makes its North American debut at the Bechtler Museum of Modern Art South Tryon is a work of art itself filled with gems by notables such as Picasso, Calder, Warhol, and more. www.bechtler.org
40.
One of Charlotte's skinniest landmarks at just 45 feet wide, the Harvey B. Gantt Center for African-American Arts + Culture packs a powerful punch with exhibits hosting traveling and permanent works by prominent African-Americans. Look for a line-up of oratory, concerts, and lectures too. www.ganttcenter.org
41.
Shortly after the Civil War, Charlotte exemplified what the "New South" was to become. Levine Museum of the New South documents this rich history through the timeless and award-winning "Cotton Fields to Skyscrapers" exhibit among many others. www.museumofthenewsouth.org
42.
Explore the Charlotte Museum of History and the Hezekiah Alexander home site for a glimpse of living history. Docents dressed in period attire guide guests through exhibits chronicling the 18th - 20th centuries. www.charlottemuseum.org
43.
Visit the Charlotte Nature Museum, an urban science center in the heart of Freedom Park that exhibits the animals and plants of the Piedmont including an ever-changing Butterfly Garden. www.discoveryplace.org
44.
The Light Factory is a nonprofit arts center dedicated to exhibition and education programs promoting the power of photography and film. The Spirit Square facility offers classes throughout the year in SLR and digital photography as well as filmmaking. www.lightfactory.org
45.
Delve into American history at the 11th U.S. president's boyhood home. The President James K. Polk State Historic Site commemorates significant events during his administration including the Mexican-American War and the annexation of California. www.polk.nchistoricsites.org
46.
Injecting some high octane energy into Charlotte's already substantial auto-racing roots, the NASCAR Hall of Fame touts a feast for the senses to honor its heroes. Look for interactive exhibits like racing simulators and pit crew experiences in addition to unforgettable tributes to NASCAR's legends. www.nascarhall.com
47.
The Charlotte Trolley Powerhouse Museum in South End features exhibits on Charlotte's past as well as a look to the future. Afterward hop aboard the Charlotte Trolley for a two-mile jaunt that provides an overview on the Queen City's history while viewing the area's smart city planning. www.powerhousemuseum.org
48.
Take in the breathtaking elegance of three historic residences at the Van Landingham Estate, the Morehead Inn, or the Duke Mansion, which all now serve as special event venues and bed & breakfasts. www.vanlandinghamestate.com, www.moreheadinn.com, www.dukemansion.com
49.
Board the Catawba Queen, a replica of a Mississippi River Paddle Wheeler or the Lady of the Lake at Queen's Landing to watch a romantic sunset or enjoy a dinner cruise on Lake Norman. Got a boat of your own? Tie up at the Floating Dock Bar and cool off with an ice cold beverage. www.queenslanding.com
50.
Visit the McColl Center for Visual Art. The Center supports an active artist in residence program and their works can be viewed by the public. The Center also frequently offers lectures and artists forums. www.mccollcenter.org
51.
Explore Duke Energy's Energy Explorium, located at McGuire Nuclear Station. The Energy Explorium features hands-on energy information exhibits, a Lake Norman movie, wildflower garden and one mile nature trail. www.duke-energy.com
52.
Let your imagination soar at the Carolinas Aviation Museum. Relive the country's proudest moments with exhibits featuring aircraft from war and peacetime. www.carolinasaviation.org
Galleries
53.
The first Friday of each month, venture to historic South End's Gallery Crawl, featuring eight galleries with everything from fine art photography to contemporary abstracts. Or check out NoDa's Gallery Crawl every first and third Friday of the month with a self-guided gallery tour. Art and Soul of South End combines dancing, singing, performances, and lots of visual masterpieces in one of Charlotte's most historic neighborhoods. Browse the local artisans or sample interactive salsa, swing, and hip-hop dance instruction in addition to hands-on sculpting, weaving, and drawing lessons. www.artandsoulofsouthend.com, www.findyourcenter.com, www.noda.org
54.
Take a tour of Charlotte's public artworks. The Arts & Science Council of Charlotte views public art as integral to a community's fabric by recognizing the potential of art to create livable cities and enrich the spirit and pride of its citizens. Stop into the Visitor Info Center for a guide to Center City's public artworks. www.artsandscience.org
55.
Charlotte is called the city of frescoes. Rare in the U.S., Charlotte is home to several sites painted by Ben Long, a N.C. native. Frescoes adorn the lobby of the Bank of America Corporate Center, The Charlotte-Mecklenburg Police Department, and Transamerica Square. www.artsandscience.org
Sports
56.
Each early May, the Quail Hollow Championship returns to the breathtaking grounds of the private 50-year old Quail Hollow Club, attracting the best and brightest talent on the PGA Tour "Money List." www.quailhollowchampionship.com
57.
Celebrate spring in the Piedmont countryside with the prestigious Queen's Cup Steeplechase, the Charlotte area's only horse racing event. Sundress-clad ladies and seersucker-sporting gentlemen can be found enjoying the loads of festivities during the event's six races. www.queenscup.org
58.
Along with the holidays, December brings with it the highly anticipated arrival of college bowl games. And Charlotte's home to a biggie – the Meineke Car Care Bowl. Pitting a Big East rival against an ACC challenger, the game kicks off each late December at Bank of America Stadium. www.meinekecarcarebowl.com
59.
Don't miss the cuts, scrapes, and power plays of minor league hockey! The ECHL Charlotte Checkers take to the ice through April at Time Warner Cable Arena. www.gocheckers.com
60.
Don't miss the excitement of the NBA Charlotte Bobcats as they host the league's brightest stars at Time Warner Cable Arena. www.bobcats.com
61.
Enjoy America's favorite pastime at Knights Stadium. Catch the Charlotte Knights, an affiliate of the Chicago White Sox, as they compete against the best AAA minor-league baseball teams. www.charlotteknights.com
62.
The tackles and touchdowns of the Dr. Pepper ACC Football Championship are headed to Charlotte in 2010 and 2011. Don't miss one of the Southeast's most anticipated match-ups, which will take Bank of America Stadium by storm and bring ACC football fans to their feet. www.accfootballchampionship.com
63.
The UNC Charlotte 49ers are sure to grab your "A10tion" as part of the Atlantic 10 Conference. With the James H. Barnhardt Student Activity Center and Dale F. Halton Arena serving as the centerpiece, the 49ers boast some of the best collegiate sports teams and facilities in the nation. www.charlotte49ers.com
64.
Catch the NFL Carolina Panthers as they compete at Bank of America Stadium each fall. Noted as one of the best natural turf fields in the NFL, the stadium plays host to die-hard Panther fans as well as some not-to-be missed tackles and touchdowns. www.panthers.com
65.
Bowling just got an upgrade. After picking up a spare, Strike City at The EpiCentre has more projection screens and plasmas than you can count and an Italian menu worthy of a taste test. People watch from the high backed leather banquettes before hitting the dance floor. www.strikecitycharlotte.com
66.
Experience NASCAR racing from a unique perspective through PIT Crew U and 5 OFF 5 ON, the coaching divisions of PIT Instruction & Training. Training programs get you up close and personal with the fastest 15 seconds in NASCAR. www.5off5on.com
67.
The CIAA Men and Women's Basketball Tournament just can't get enough of the Queen City! The excitement of this 64-year old NCAA tourney brings more than 150,000 fans to Time Warner Cable Arena for the dribbles, drives, and dunks on the court and the non-stop celebrations off of it. www.ciaatournament.com
68.
Any way you slice it, Charlotte's got plenty of golf courses to choose from. More than 40 public ones to be exact. Whether driving the impressive wetland-shrouded 15th hole of Rocky River Golf Club or teeing off at the championship course at The Ballantyne Hotel & Lodge, you'll find a lot of links to your liking. www.charlottesgotalot.com/attractions
69.
Charlotte Motor Speedway, home to NASCAR's only 600-mile race, hosts the Coca-Cola 600 each Memorial Day weekend, a week after the NASCAR Sprint All-Star Race. www.charlottemotorspeedway.com
70.
The NASCAR Sprint All-Star Race is a spring ritual of speed and daring resulting in yearly additions to the book of NASCAR lore. Catch the excitement as motorsports history is written at over 180mph each May. www.charlottemotorspeedway.com
71.
As the chase for the NASCAR Sprint Cup heats up, racing action returns to Charlotte Motor Speedway as it hosts the NASCAR Banking 500 only from Bank of America in October. The fifth race out of the final ten for the Sprint Championship, this battle promises high-speed action and excitement. www.charlottemotorspeedway.com
Shopping
72.
Paint the town red at Center City's most coveted entertainment destination, The EpiCentre. A bevy of retailers, restaurants, nightlife, and more fill the open-air corridors including the 25,000 square foot event venue called Pavilion, which hosts the "Alive After Five" summer concert music series. www.epicentrenc.com
73.
Shop 'til you drop at Concord Mills, a bargain hunter's paradise with deals as far as the eye can see. Offering more than 200 stores, Concord Mills also boasts restaurants, a 24-screen AMC Theatre, Bass Pro Shops Outdoor World and NASCAR SpeedPark. www.concordmills.com
74.
Find some of the most sought after and luxurious brands around at SouthPark Mall. Highlights include department stores like Nordstrom and Neiman Marcus in addition to cult favorites like Juicy Couture, Michael Kors, Burberry, Kate Spade and Louis Vuitton. www.simon.com
75.
Shop at new south Charlotte open-air developments such as Blakeney and Morrison featuring high end boutiques peppered with designer labels or other coveted luxury goods only found this side of Manhattan. www.charlottesgotalot.com/shopping
76.
Some of Charlotte's best retail therapy can be found in alfresco and pedestrian-friendly shopping centers with tranquil fountains, tree-lined sidewalks, and inviting eateries. At Phillip's Place in South Park for instance, visitors can stumble upon high-end boutiques, hard-to-find labels, and fun finds. www.charlottesgotalot.com/shopping
Wine & Food
77.
The Taste of Charlotte food festival draws more than 150,000 people to Center City Charlotte each June to experience a wide array of family activities, live music and fantastic food from the area's hottest restaurants. www.tasteofcharlotte.com
78.
Much to the surprise of wine aficionados, North Carolina is home to more than 80 wineries, ranking an impressive tenth in the nation's wine production. The Yadkin Valley's temperate climate lays claim to dozens including the Swan Creek Wine Trail, which includes estates like Laurel Gray, Raffaldini, Shadow Springs, and Dobbins Creek. Howl at the Moon at www.swancreekvineyards.com
79.
The Tuscan-inspired grounds of Childress Vineyards, owned by auto racing legend Richard Childress, lay claim to over 65 acres of vineyards producing nine varieties ranging from Malbecs to Chardonnays. Explore the Barrel Cave with a cascading waterfall and wine casks. www.childressvineyards.com
80.
Each September, Blues, Brews, and BBQ combines the likes of legendary Tar Heel BBQ from across the state with the rockin', expressive blues that feeds our souls. A 5K Hog Jog through the streets of Center City, awards for the festival's best BBQ, and plenty more tasty eats and cool tunes round out this rip-roarin' good time. www.findyourcenter.com
81.
Charlotte Restaurant Week, a scrumptious sensation that entices thousands to dine like royalty, returns for inviting encores each January and July. Countless upscale establishments boast their best appetizers, entrees, and desserts for the easy-on-the pocketbook price of just $30 for three courses. For dates, check www.charlotterestaurantweek.com
82.
No stranger to masterful wine pairings and multiple course masterpieces, the Victorian-era McNinch House Restaurant located in Charlotte's historic Fourth Ward is an intimate setting to satisfy even the most well traveled and sophisticated foodies. www.mcninchhouserestaurant.com
83.
Whisky River, a nightlife creation by Dale Earnhardt, Jr. is located in The EpiCentre, one of Charlotte's most popular destinations with over 20 venues sharing one very cool address. Saddle up to a belt-buckle trimmed bar or test the feisty mechanical bull. www.whiskyrivercharlotte.com
84.
Let your hair down and don't miss Howl at the Moon in The EpiCentre, where musicians man baby grand pianos and saxophones. A bachelorette party magnet, patrons are pulled up on stage here to help croon high-energy classics by Billy Joel and Journey. www.howlatthemoon.com
85.
For the best barbeque in town take the LYNXBlue line south to Mac's Speed Shop. I recommend either the sample platter or their specialty the beef brisket. They are located at - 2511 South Blvd. - Charlotte, NC 28203 -11 AM to midnight or whenever. www.macspeedshop.com
Extras & Festivals
86.
Ready for a night on the town? Head over to the Visulite Theatre for great live music or experience a time-honored Charlotte live music venue, the Double Door Inn. www.visulite.com, www.doubledoorinn.com
87.
Indulge in the ultimate destination spa experience at The Spa at Ballantyne Hotel & Lodge. Theaward winning, full-service spa features a variety of natural and organic based treatments using ingredients indigenous to the Carolinas. www.spaballantyne.com
88.
Held each October since 1991, the Public Library of Charlotte's award winning Novello Festival of Reading is a celebration of reading and books boasting presentations by bestselling authors, a street festival and other reading-related activities. www.novellofestival.net
89.
Don a derby and your finest green attire for the Annual St. Patrick's Day Parade and Charlotte Goes Green Festival. Filled with bagpipers, dancers, bands, and vendors with traditional eats like corned beef and cabbage, the happenings in Center City serve up a little something Irish for everyone. www.charlottestpatsday.com
90.
The lush, three-tier lawn on The Green lays claim to quirky, novella-themed features, hopscotch paths, and three towering fish fountains. Kids are regular fixtures here, but the park hosts a range of events throughout the year including outdoor Shakespeare performances and wine festivals. www.greenuptown.com
91.
Visit Plaza-Midwood, Charlotte's most diverse streetcar-era neighborhood. Its earliest avenues were plotted in 1903 and its newest date from after the Second World War. Buildings range from turn-of the- century factories and bungalows to the city's most prestigious country club and thriving nightspots. www.plazamidwood.org
92.
Visit Charlotte's historic South End neighborhood. Once a hot spot for textile mills in the 1850s, the LYNX light rail line now zooms through, a tell-tale sign that this neighborhood is on the move. Embark on a gallery crawl, hop on the Charlotte Trolley, or sample ample dining and nightlife options. www.historicsouthend.com
93.
NoDa District (North Davidson Street). NoDa is now the home to the City's best collection of galleries and performance venues; some of the funkiest full service restaurants including authentic Cajun cooking, Southwest cuisine, a Creative pizza eatery and more. There is a Gallery Crawl twice a month to experience NoDa's unique street scene. Every 1st & 3rd Fridays throughout the year. From 6pm to 9:30pm. Or if you cannot make it to the Gallery Crawl please visit NoDa during regular business hours. Most businesses are open 7 days a week. www.noda.org
94.
The Mecklenburgers announced their freedom with a proclamation called the "Mecklenburg Declaration of Independence," forever dissolving the colonists' bonds with Britain. Years later, Charlotte still celebrates annually each May 20 with MecDec Day. www.may20thsociety.org
95.
Experience the collection of nationally renowned public artworks that adorn the Charlotte Convention Center, or attend a variety of tradeshows and conventions open to the public, including the Charlotte International Car and Mid Atlantic Boat Shows. www.charlotteconventionctr.com
96.
Leave the car behind and hop aboard the LYNX Blue Line light rail for easy stops at Charlotte attractions like Levine Museum of the New South and ImaginOn: The Joe and Joan Martin Center or for mouth-watering eateries like Fuel Pizza or The Liberty. www.charmeck.org
97.
Central Piedmont Community College has hosted an annual Spring Literary Festival each year for the past 15 years. With writers and visual artists ranging from novelists to landscape painters to international poets and multicultural storytellers, CPCC brings a stunning array of talent to Charlotte. www.cpcc.edu
98.
First Night, a celebration that more than 200 cities participate in, returns each New Year's Eve for a family-friendly celebration along Tryon Street. Culture fills the streets throughout the day with musicians, dancers, actors, artists, and more. Suitable for all ages, the festivities culminate with a firework-filled finale at midnight. www.firstnightcharlotte.org
99.
Celebrating all things Greek, peruse booths at the Yiasou Greek Festival packed with cuisine and pastries and jewelry and crafts vendors – not to mention live performances that will have you shouting "Opa!" in no time
100.
Each September, Freedom Park hosts Festival in the Park, bringing together more than 100,000 people to the spirited lanes of one Charlotte's most popular green spaces. The arts and crafts event touts more than 150 artists and nearly 1,000 entertainers. There's also a hodgepodge of food vendors to satisfy even the pickiest eater. www.festivalinthepark.com
101.
One of the best ways to explore the city's growing thoroughfares, the horse-drawn Charlotte Center City Carriage Tours "clip-clop" through city streets including Fourth Ward, featuring striking Victorian homes and an impressive tree canopy. www.southernbreezes.com