News From:
Regional Sections
Southern California: Job Fair
Members of the Southern California Regional Section (and those from neighboring sections) are encouraged to save the date for the next annual Job Fair and Student Design Competition Saturday, January 22, from 10 a.m. to 3:30 p.m. at the Ruth B. Shannon Center for the Performing Arts on the campus of Whittier College in Whittier, California. Faculty and other theatre professionals, along with students, are welcome to attend at no charge. Potential employers and representatives from graduate and undergraduate programs are invited to participate in the job and career fair. Student designers and stage managers for theatre and dance productions are encouraged to submit their work for the design competition. For more information about the event, contact Section Co-Chairs Donna Parsons (stagemama@aol.com) or Jim Taylor (jptaylor@pomona.edu). For information about the venue, contact Brian Reed (breed@whittier.edu).
Southwest: Winter Symposium
The Southwest Regional Section Winter Symposium will be held January 15 to 16 in San Antonio, Texas. San Antonio College will host the master classes, and tours of both the McNay Art Museum' Tobin Collection of Theatre Arts, and SeaWorld San Antonio will be featured.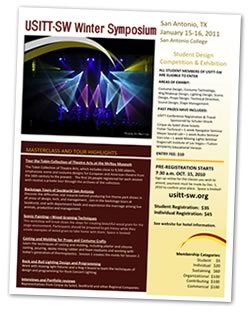 The Tobin Collection of Theatre Arts, which includes close to 9,500 objects, emphasizes scene and costume designs for European and American theatre from the 16th century to the present.
SeaWorld San Antonio will host a day of backstage tours and discussions with department heads, exploring the challenges of theme park entertainment. SeaWorld San Antonio, with 250 acres, is the largest of the SeaWorld parks.
Students are encouraged to enter the Student Design Competition and Exhibition. This is an adjudicated exhibit; past prizes have included: USITT Conference registration and travel sponsored by Schuler-Shook; Cirque du Soleil show tickets; Fisher Technical one week Navigator Seminar; Meyer Sound Lab one week Audio Seminar; Vari-Lite one week Moving Lights Seminar; SILV Summer Program tuition, and WYSIWYG Educational Version. There is a $10 entry fee.
Master classes in Rock & Roll Lighting (Design and Programming); Casting and Molding for Costume Crafts and Props; Scene Painting: Wood Graining Techniques; Costume Mixed Medium Rendering Class; and Digital Scenic Rendering Class are scheduled.
Interviews and portfolio reviews with representatives from SeaWorld, Cirque du Soleil and other regional vendors will be offered.
Cost for the weekend is $35 for student members and $45 for individual members. The first 24 people registered for each of the three Tobin Collection Tours will receive a tour of the collection archive. An online registration form is available at www.usitt-sw.org. The registration form and payment must be submitted by December 1 to confirm registration.
The O'Brien Hotel and the La Quinta San Antonio Convention Center Hotel, both of which are just outside the Riverwalk, are Symposium hotels. Both offer free parking, free high speed internet, and free breakfasts. See usitt-sw.org for more information.
Ohio Valley: Conference Breaks Records, Upcoming Events Announced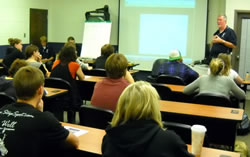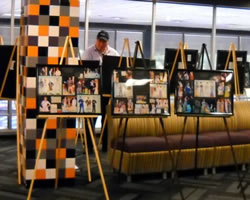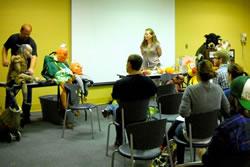 Over 100 participants and presenters descended on Capital University in Columbus, Ohio September 25 to make the Ohio Valley Regional Section' conference an attendance record-breaker. An extraordinary and near record-breaking number of nominated entries for the Peggy Ezekiel Design Exhibit were received. Visit the Ohio Valley website for a list of the winners.
OVS extends a special thanks to Jeff Gress and Capital University for hosting the day' events. Many thanks are extended to the Ezekiel Committee, adjudicators, student volunteers, and Board Members who efficiently coordinated an impressive 40-entry design exhibit. OVS was fortunate to have so many presenters share their expertise over a wide range of topics with the membership.
Future events were announced for the OVS section. Nominations are open for OVS Board positions. To nominate someone, contact Eric Rouse at ejr127@psu.edu. Nominations will be taken through the next membership meeting in Charlotte, North Carolina. The voting process will begin at that meeting and will finish electronically for those unable to attend the National Conference & Stage Expo.
Mark your calendar now for a Behind the Scenes Tour of the New LEED-certified Rock & Roll Hall of Fame in Cleveland, Ohio for Saturday, May 21. Watch the website for more details about time and event hotel discount. The Fall OVS 2011 Conference will be held at Allegheny College in Meadville, Pennsylvania on September 24. Suggestions for sessions at the next Fall Conference or for future events can be sent to Tammy Honesty (thonesty@cinci.rr.com) or via Facebook USITT/Ohio Valley Section Group Page.
Chesapeake: Expo & Conference Held
The Chesapeake Regional Section held its annual Expo and Conference workshops on September 18 at the University of Mary Washington in Fredericksburg, Virgina. This year's conference included workshops in all areas of technical production, professional level development workshops, a vendor floor open to the Section, and a Nano Reach, No Riders Boat Regatta -- a low cost, high involvement, high fun event to raise funds for Behind the Scenes.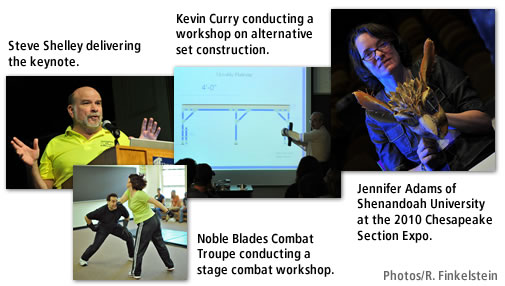 Midwest: Registration Open for Mechanical Design Competition
The Fifth Annual Midwest Regional Section's Mechanical Design Competition (MMDC) shootout will take place on Saturday, May 7 at the Krannert Center for the Performing Arts at the University of Illinois. Registration for this year's competition has already started and is open to college theatre majors of all ages and skill levels, including undergraduate and graduate students.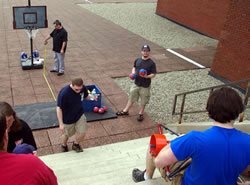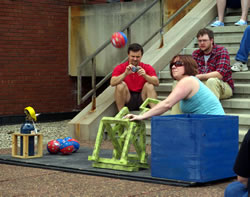 Students are given the parameters for a mechanical device to design, document, and prototype. Then they bring their prototypes to the shootout on May 7 where they are put through the paces to determine which is the best design. Register to find out the design. After registration an e-mail packet will be sent that includes the project description and specific rules for this year's competition. For more information about this year's competition, including how to register, go to www.usittmidwest.org and choose Midwest Mechanical Design Competition from the right hand column.
This year the overall winner will receive an acrylic trophy and a full conference pass to the 2012 USITT Conference & Stage Expo. The competition is broken into a number of categories so everyone has a chance to win.
The Midwest Aesthetic Design Competition will take place along side the Mechanical Design. Watch the shootout, join in on a workshop, and show off a design to compete for a full-conference pass to the 2012 USITT Conference & Stage Expo. Look for details, coming this winter.
Fresh Air and Basketball Shooters -- Definitely a Winning Combination

On a rainy Saturday in early May, basketball shooters reigned at the Krannert Center for the Performing Arts during the Fourth Annual Midwest Regional Section Mechanical Design Competition, sponsored by the USITT Midwest Section. The 2009 shootout showcased nine remarkably varied designs from University of Illinois and Indiana University students. Adam Weil successfully defended his title taking the USITT Midwest Section Best Design Award and the $100 prize.