Conference Becomes International Crossroads
The Kansas City 2010 Conference & Stage Expo was an international crossroads for attendees. The OISTAT Executive Committee and Governing Board were present, representing Belgium, Canada, Czech Republic, Denmark, England, Finland, the Netherlands, Sweden, and Taiwan. The International Cultural Exchange Visitors Program, sponsored by the Department of State and the John F. Kennedy Center for the Performing Arts, brought seven young designers from Bosnia and Herzegovina, Ghana, Georgia, Malaysia, Pakistan, Uganda, and Ukraine. In addition, registrants were from Bangladesh, Brazil, Canada, Spain, South Korea, Trinidad and Tobago, and Wales. This range is likely to have been the widest international representation ever gathered at one of the Institute's conferences.
As is the case for American members, the global contingent learned that networking can be one of the most valuable experiences at the conference. When the OISTAT representatives met with those from the International Cultural Exchange, ideas for continuing contacts began to develop. The emerging designers were just learning about OISTAT for the first time and discovered how they might start OISTAT Centers in their countries. In the session outlining the planning of activities for the Prague Quadrennial of Performance Design and Space to be held June 16 to 26, 2011, the young designers also learned how they might become involved in its exhibitions. USITT representatives to OISTAT reported on their activities of the past year, and everyone attending became more aware of the scope of offerings available through OISTAT.
Each of these groups of guests took a turn presenting design and technology from their homelands. Watching each other's sessions, along with the USITT membership, all were enlightened about countries that have not had an opportunity to present information at conferences before. Participants recognized that most cultures, no matter how diverse or distant, share in the desire to tell stories through theatre performance and design.
Two of the Gold Medal winners from the 2009 World Stage Design prepared exciting presentations. Lin Heng-Cheng, the award winning costume designer from Taiwan, emphasized that designers need to be sensitive to the choices of fabric for their creations. He demonstrated his integration of traditional patterns and textiles to fashion unique surfaces in his designs. Gold medal scene designer Liu Xinglin of Beijing illustrated his inventive use of white in his minimalist set designs for traditional Chinese opera, a technique he developed through repeated use during the last decade.
Sound Designer John Leonard, from the United Kingdom, delivered a fascinating lecture on his personal journey through the history of sound design dating back to the very early days of the discipline. He focused on how the technology drove the art form, including pictures of the many steps – and missteps – in theatre and sound technology, including vinyl, reel-to-reel, DAT's, minidisc, samplers, and finally computer hard disk playback. His presentation was spiced with his own extraordinary recollections of how each new technical development affected his attempts to bring high quality sound to theatre productions.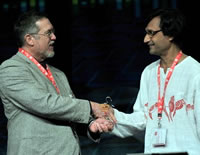 USITT President Carl Lefko, left, accepts a special award expressing felicitations from Theatre Designers' Institute of Bangladesh from Faiz Zahir.
In commemorating USITT 50th anniversary, Faiz Zahir, a director and designer from Bangladesh representing the Aranyak Group Theatre and the Theatre Designer's Institute, presented USITT President Carl Lefko with a special recognition trophy. Michael Ramsaur collected almost 50 anniversary greetings to USITT from close to 50 countries during his OISTAT travels for the last year. These greetings were played on the monitor outside the USITT boutique at Stage Expo. In his Fellows address, Dr. Joel E. Rubin issued a call for increasing international exchanges and connections.
International guests were a major part of the 2010 Annual Conference. They participated in OISTAT meetings, sessions, and created special exhibits as part of Stage Expo.
Photos/Tom Thatcher, R Finkelstein