New Hours & Days for Stage Expo
USITT's 50th Annual Conference & Stage Expo will be held March 31 to April 3 at the Kansas City Convention & Entertainment Facilities in downtown Kansas City, Missouri. Stage Expo will be held on Wednesday and Thursday from 11 a.m to 6 p.m., and on Friday from 11 a.m. to 4 p.m. so that exhibitors can attend the conference blockbuster sessions each morning.
Stage Expo 2010 will fill exhibit halls A, B, & C, located on the second level of the Kansas City Convention & Entertainment Facilities. Bartle Hall A/B/C is a 190,000-plus square foot space, approximately 25 percent larger than the exhibit hall in Cincinnati in 2009. Plan now to spend plenty of time to see all of Stage Expo, the annual showcase of businesses, products, services, and educational opportunities for the performing arts and entertainment industry.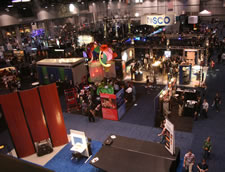 Stage Expo 2010 will include several Cyber Cafes so attendees can check e-mail and surf the web, as well as the USITT Booth & Boutique, where conference goers can learn more about the Institute, purchase logo items, or attend book signings. There will be a plethora of special exhibits at Stage Expo 2010, celebrating 50 years of theatre design and technology.
For more information about Stage Expo 2010 exhibitors, visit the Stage Expo web page to see the layout and a current list of exhibitors. Click on a highlighted booth to find contact information and a brief description for each exhibitor. Links are provided to exhibitors' websites to learn more about products and services prior to the show.
A limited number of Commercial tables for small companies meeting criteria, and Non-Commercial tables for colleges, universities, and other non-profit organizations are available. Suggestions for companies or organizations to be included at Stage Expo 2010 in Kansas City, but who are not listed as exhibitors, can be e-mailed, with contact information, to hpwillard@aol.com.