Seek Scenic Art for Display
For the first time, the 2010 USITT Conference & Stage Expo will have exhibit space large enough to include an exhibit of scenic art work. Scenic artists from all aspects of the entertainment industry and from all levels of expertise, both student and professional, are invited to submit work for From the Hand of A Scenic, a large format scene painting exhibition March 31 to April 2 at the Kansas City Convention & Entertainment Facilities, Kansas City, Missouri.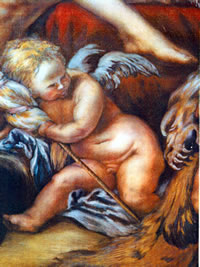 There will be two areas and formats for display. One area will include 8 by 8 foot panels on which smaller pieces may be attached, and the other area consists of 72 feet of pipe, about 12 feet tall, allowing for small backdrop displays. All submissions must be on soft goods with finished edges. Pieces to be hung on the pipe must have grommets and ties. See the application form for more important information and guidelines.
Scenic art has been well served by many sessions and Professional Development Workshops but it became apparent at the last annual conference that there was a need to display scenic work alongside Design Expo and other exhibits.