Korean Rituals Focus of Workshop
Last summer, OISTAT sponsored the initial Asian Ritual Festival Workshop, centered on the celebrations of the Ghost Festival in Taiwan. Participants from several points on the globe experienced different traditional events from a variety of ethnic groups around Taipei, and then created performances as an artistic response to what they had observed.
A second workshop in this series, designed to integrate local culture and lifestyle with the exploration of design motifs, was held this summer in South Korea after the meetings of the OISTAT World Congress in Seoul in September. Building on the essential belief that theatre is a reflection of society, the objective of the 2009 workshop was "to express a creative outcome through diverse experiences in a new environment, the locality of Korea, and its historical era."
Five international teachers, Maija Pekkanen and Reija Hirvikoski from Finland, WeiWen Chang from Taiwan, John Mayberry from Canada, and Sandy Bonds from the United States, were invited to serve as team leaders to the student participants, primarily from Korea and Taiwan. The workshop was based at the Chun-an Campus of SangMyung University and was organized by Hyesook Chang, dean of the school of art. She coordinated diverse field trips to introduce the participants to different aspects of inspiration from Korean culture.
Yongin Korean Folk Village was the first destination providing inspiration from everyday life. An open-air museum, the site contains over 260 traditional buildings from the late Joseon Dynasty (1392-1910) complete with furniture, examples of food and traditional medicine, and a staff dressed in clothing of the era.
The Global Fair and Festival in Incheon, an international exhibition juxtaposing technology and traditional arts, introduced the teams to city cultures. Pavilions included a wide range of displays from floral arrangements, a street of international vendors, dancers, and arts from Vietnamese water puppets, to high tech robots, and digital arts.
The third inspiration, from nature, came from a stay at the Sudeoksa Buddhist temple in a beautiful mountain setting, where all participants shed their worldly identities for 24 hours and lived the daily lives of Buddhist monks, rising before dawn for meditation and a traditional breakfast ceremony. The final inspiration came from sound through an animated lecture/demonstration on Korean traditional music which skillfully incorporated audience participation to illustrate rhythms and melodies.
Fortified with the riches of these insights into Korean customs, the five teams then deliberated about their impressions and aesthetic reactions to what they had experienced. In a few short hours, the teams sketched, selected the locations for their sites, collected materials and made shopping lists fusing their individual ideas into five ritual installations for presentation the next day. Though each team response was unique, they shared conceptual outcomes in their use of natural materials, interactive participation, and wishes for positive future. Though the introduction to technology had been fascinating, all teams gravitated towards nature and traditional values.
John Mayberry reflected on the experience, "I embarked on this project with few preconceptions. An esteemed colleague of mine, Don Rubin, once counseled me that the key to international workshops was to prepare as well as possible, but also be prepared to throw all preparation out the window when faced with the realities of the situation. I must say that in this case, Hye Sook Chang did an admirable job preparing the students and arranging all the logistics for this ambitious project, so there were few surprises. My favorite memory is of the busload of international students (mostly Korean and Taiwanese, but including a Bangladeshi and a Czech) laughing together the whole way from Chunan to Seoul – a noisy, multilingual celebration of art, language, and goodwill that would make anyone think there is hope for our species. I am lucky to have been a part of this workshop, and glad to have been able to work with Maija Pekkanen, Reija Hirvikoski, Wei-Wen Chang, and Sandy Bonds, as well as my team of students from Korea and Taiwan."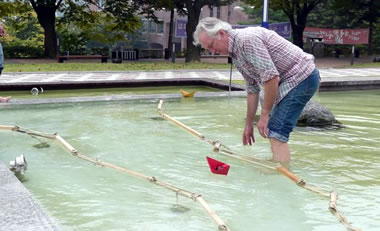 John Mayberry guides a flaming paper boat carrying wishes for a good future as part of the rituals workshop.