Performers ask, "How do I get to Carnegie Hall?" We all know the standard answer, but what do we tell technicians and designers? Desert State Regional Section, in conjunction with Maricopa Community Colleges, will offer a workshop on, but not limited to, resume building and portfolio review for careers in theatre. Putting Your Best Foot Forward: How To Market Yourself and Your Art is geared to students helping them put together a portfolio and résumé for this industry. This will be presented on Saturday, October 17 at Scottsdale Community College, 9000 E. Chaparral Rd. (101 and Chaparral Rd), Scottsdale, AZ, 85256, in the Turquoise Room. The event will start at 9 a.m. and wrap up by 3 p.m. Registration can be done by contacting Fran Southerland. The $10 registration fee includes lunch. It will be a working lunch giving everyone time to network. This will be a great help to anyone who wants to apply to the Student Award Program.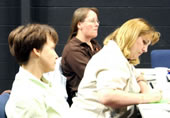 This is the third year Desert State will hold the Student Award Program. This program helps three students or young professionals attend the Annual USITT Conference & Stage Expo. The goal is to receive 12 submissions, with more coming from the community colleges in addition to the state universities.
The section is trying something new in 2010. "Our members have spoken and we have listened!" said Fran Southerland, Section Chair. The 2010 Desert State annual meeting and conference will be on Monday January 18.
Mark your calendars now! Submit your workshop requests! Volunteer to present a workshop! Got questions? Contact franesutherland@gmail.com. The section can also be found on Facebook, Desert State USITT.
To Top