State University of New York at Fredonia
Rachel E. Pollock
University of North Carolina at Chapel Hill
This past August, Ohio University's Department of Theatre hosted a three-day weekend of lectures and workshops on constructing creature masks, hand puppets, mascots, and multi-operator macropuppetry using foam and Varaform. USITT Costume Symposium Chairs Holly Cole and C. David Russell led over 40 attendees from the United States and Canada. Master artisans Kjersten Lester-Moratzka, Katherine Wagner, Tom Fiocchi, and Brandon Kirkham lectured on related topics and assisted as lab mentors.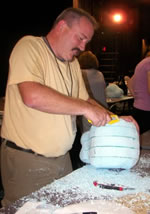 Thomas Bernard from California Polytechnic carving a blue foam rabbit matrix.
At the symposium's inception, the Ohio University team dazzled participants with an exhibition of their collection of foam and Varaform creatures, masks, headdresses, and puppets. The opening lecture provided a detailed overview of the collection. Given by Ms. Cole and Mr. Russell, it focused on the design, conception, and execution of each piece. Mr. Russell then led a discussion on various types of thermoplastics - rigid polymer materials which become rubbery with application of mild heat, and can then be molded and sculpted, stiffening as they cool. Ms. Cole gave an overview of foam materials and offered strategies for project-specific selection of foam media.
The afternoon hands-on sessions divided symposium participants into two groups. Lab A concentrated on pattern development and adaptation of various foam products, with the ultimate goal of completing a large-scale reticulated foam donkey head. Symposium participants began working in polyurethane foam rubber, using a half-scale donkey pattern that could later be modified into a hand puppet. Workshop leaders challenged attendees to use their knowledge of draping and patterning in the context of an unusual medium—foam! Meanwhile, Lab B addressed the creation of an animal mask using Varaform. Using a subtractive sculpting method, participants carved a rabbit head matrix in rigid blue foam, on which they would later build up their Varaform masks. These initial, work sessions laid the foundation for the development of full-size heads during the remainder of the symposium.
The first day culminated in a catered reception at the Dairy Barn Arts Center in Athens, Ohio, where symposium participants enjoyed a private viewing of the 2009 National Quilt Show, a juried exhibition of stunning, complex works created by artists the world over.
Ms. Lester-Moratzka and Ms. Wagner began the second day with a presentation on constructing pod bodies for creature costumes and mascots. Both artists have extensive experience in the subject - Ms. Lester Moratzka at the Children's Theatre of Minneapolis and Ms. Wagner at a commercial mascot production company in New York City. Ms. Lester-Moratzka demonstrated patterning techniques and engineering of a pod body structure that can be adapted to variety of shapes and silhouettes. Ms. Wagner provided a thorough overview of large-scale mascot costume construction. Both artisans also offered invaluable tips on actor safety, visibility, and physicality.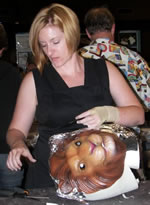 Amy A. Page from UNC-CH working on a lion matrix.
Mr. Kirkham, a set and costume designer and Ohio University MFA program alumnus, led the second discussion on structural and mechanical design of kinetic puppets, masks, and headdresses. He shared his recent design renderings and technical diagrams for creature-heavy productions of Charlotte's Web and Petite Rouge (a Cajun Red Riding Hood). Much of his reticulated foam work for children's theatre was on display, and he fielded questions about the patterning, construction, and decoration of these pieces, many of which had been dyed after construction using disperse dyes for acetate/nylon fiber.
Before participants dispersed to their afternoon labs, Ms. Cole and Mr. Russell covered advanced techniques of reticulated foam and Varaform assembly, expanding on their previous lecture and preparing participants for their work on the reticulated foam donkey head and Varaform animal head. For those who were dissatisfied with their results from the previous day's subtractive foam sculpting session, Mr. Russell demonstrated a simple, quick method to create a mask matrix from inexpensive vacuformed, Halloween-style animal masks. Using this technique, even those less apt at sculpting were able to produce complicated Varaform head structures. The presentation team also projected several step-by-step PowerPoint slideshows, and each demonstration was filmed live; all participants received a CD of the PowerPoints and a DVD of the video coverage, enabling them to easily incorporate these methods into future production processes or coursework.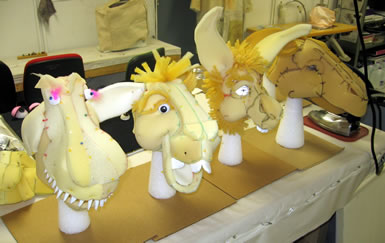 Variations on the basic donkey pattern: T-rex, braying ass, cartoonish donkey, natural donkey.
Attendees divided the rest of the afternoon between the two projects, working on creations with the help of mentors and alumni volunteers. The Ohio team led attendees through relatively challenging projects with ease and encouragement. Many of the participants chose to return after dinner for an additional, optional, supervised work session.
The third and final day started with an insightful presentation on puppet mechanics, as well as rigging and assembly techniques. Ms. Cole and Mr. Russell showed examples of moveable eyelids and ears, and methods for using doll joints and knotwork for limb attachments on smaller-scale puppets. Ohio's propmaster Mr. Fiocchi discussed wood, steel, and aluminum frame construction and various methods for rigging inside of macropuppets. As he spoke, Mr. Fiocchi provided a practical example by manipulating a single-operator 10-foot puppet woman (Nana from Enchantment Theatre's touring production of The Velveteen Rabbit). Further discussion addressed materials, supply vendors, labor needs, shipping options, and costs. Everyone shared contacts, and participants received free samples of additional thermoplastic materials supplied by Dazian, such as two weights of Fosshape (thermoformable felt) and Wonderflex (solid thermoplastic sheets overlaid with a thin support mesh).
The remainder of the afternoon was allotted to lab work. Many participants used this time to finish projects, ask questions, or focus on a particular challenge. All of the symposium mentors were on hand to answer questions and offer help. The day ended in a casual "show and tell," giving each attendee the opportunity to comment on the work they had accomplished and to get feedback from the group, followed by a pack-out session for those who needed to ship their creations home.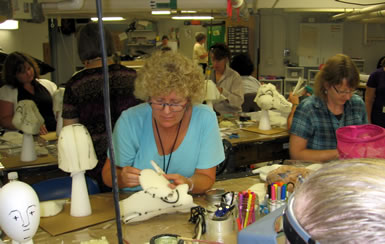 Symposium participants experiment with half-scale donkey patterns in foam.