50 Years of Lighting Technology Highlighted in 2010 Exhibit
The other day, a lighting designer was discussing with a colleague some of the software tools they are using today to aid in their design work, and one casually mentioned to the other how he feared technology would make them "lazy." Perhaps this concern stems from the fact that, in actuality, technology has made the process of design much more freeing; there are far more options for getting from A to Z than there were even just one decade ago.
This year USITT celebrates 50 years. When preparing to celebrate such milestone birthdays, quite often there is a moment of reflectivity: "how did we get here" or "wow, what a journey," or occasionally "I don't remember when that happened!" So, often, old friends gather together for a trip down memory lane through stories and photographs taking pause to show respect before moving forward. This year at USITT's 50th birthday celebration, the Lighting Commission is working to do just that.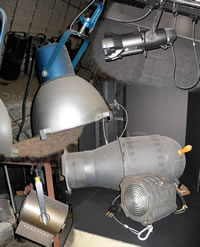 This spring, at Stage Expo, Commission members plan an exhibit to showcase many of the lighting industry's major steps forward in technology during the past 50 years. There have been some major leaps and bounds across the board in everything from how color is used to how lighting design is thought about and visualized, to lamp and fixture design to control desks. For desks alone, how can the list of great icons be narrowed down including (but not limited to) Colortran's ChannelTrack, Kliegl's Performer, Strand-Century's Light Palette, ETC's Express, and FPS' Whole Hog? How about the Berkey Colortran ERS with the stepped lenses or the oval beamed Kliegl Fresnel? Explore, reminisce, and share stories on the show floor during the 50th Annual Conference & Stage Expo in a journey through the equipment of the past.
Some of these pieces are still used on a daily basis, while others may only be the "stuff of legends" in the classroom, textbooks, or trade articles. In either case, this will be an excellent opportunity to get up close and personal with those grand pieces of technology that paved the way to the present frontier. For those who never had the opportunity to use some of these objects of the art, it will be a good time to visit with and learn from those who once used them as staples of their own toolboxes.
Volunteers are needed to help set up the exhibit and assist on site, as well as folks willing to loan their historical gear. Stay tuned to Sightlines for more information on who to contact and how to get involved.
There will be a lot to do in Kansas City, Missouri but be sure to stop by and visit the USITT 50 Years of Lighting Technology Exhibit. Honor the path that got us here, reminisce on "the way things were," and ponder where the next steps will lead.
To Top