Kansas City Promotions Coordinator
Think of Kansas City as the puppy with big feet. Really big feet. KC probably has more highway miles per capita than any metropolitan area in the world, and as a car town it's easy and fun to drive. Kansas City as a metro area has one of the most diverse economic engines in the world. Major industries include telecommunications, architecture (especially sports arenas), engineering, computer hardware and software, banking, mutual funds, agribusiness, and a lot of government services. Some interesting statistics and apocrypha concerning Kansas City:
More government per capita than anywhere else in the world;
More land per capita than anywhere else in the world;
More people attend performing arts than professional sports in a given year;
More fountains than any city in the world, but Rome.
People coming to Kansas City for the USITT 50th Bash, are probably thinking they will be going to the State of Kansas. But the city is actually in Missouri and 90% of attendee's time will be spent in downtown KCMO, which is the largest city in the State of Missouri. Visitors will probably say Mi-ZOU-rie, but residents say Mi-ZOU-rah, and it's a nice 'tell' as to whether one's talking to a local or a visitor.
Where New York astonishes in that you can have the wealthiest and poorest people right upon each other, Kansas City is equally fascinating in that you can have the most educated and least educated interacting, friendly and engaged. The mix of conservative and liberal seems evenly split. To make things interesting KC also has a fair number of people who believe the world is only 6,000 years old and they only read one Book.
But everyone is quite polite and friendly; just basically avoid talking politics and religion, two words that seem to have become synonymous. Otherwise, everything is cool.
Kansas City is not a busy city in an impersonal rush. People will give you a nod, a smile or a 'hello' while passing on the street. Most even slow down a bit when driving through green lights. Really infuriates east-coast types.
The Kansas City area is an expansive mix of urban, suburban and rural. It is spread out over some 15 counties, with a population of over 2 million. The area is quite beautiful, with lovely green rolling hills, many forested areas, large expanses of grass, and interesting bluffs overlooking the river areas. Cyclists love Kansas City because they can actually go through all of their gears, making cycling more fun. Great cooperation between the numerous cities and counties is a growing an extensive system of trails to support that fun.
Missouri is known as the Show Me State, which can be translated as being a bit conservative and cautious. It manifests itself in ways of being skeptical and difficult to convince. Area banks maybe practice this the best. Borrowers really have to work to get a loan, and basically put up so much collateral that people come away wondering if they only loan money to people who don't need it. But, it may work for them. None of our banks went through any financial difficulty these past few months, and none needed or asked for TARP funds! And because of the diversity of business and the cautious nature of embracing something totally new, this city never bursts with activity the way Seattle or Denver have in the past. Because of that diversity however, Kansas City never suffers harshly during economic downturns.
So Kansas City is spread out, diverse, yet in many ways unorganized and unconnected. Maybe blame so much government: two states, 15 counties, 40+ municipalities. But every once in a while this place comes together to really make something work, and it just might be that the 21st century is the century for Kansas City, where the puppy becomes the big dog standing tall in the middle of the country.
Next month: Getting to Kansas City, the fabulous airport, and a new downtown KCMO.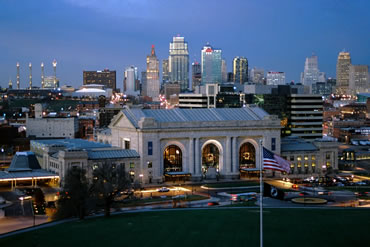 The diverse skyline of downtown Kansas City.
Photo/Courtesy Kansas City Convention & Visitors Association
To Top