Exhibit, Session to Feature 'False Faces'
The Scenic Design Commission will present an exhibit, The "False Faces" of W. T. Benda, at the 50th Annual Conference & Stage Expo in March in Kansas City, Missouri. It will include masks made by the artist, historical information about his life and work, and a unique step-by-step 3D illustration of his process. There will also be a Conference session with the same title.
This presentation is made possible with the support of Ann Taylor, Mr. Benda's granddaughter; and Elly Bostelmann Shimler, his daughter. The Conference session will be co-moderated by Elizabeth Popiel, the exhibit curator, Nadine Charleson, and Thatcher Taylor (Mr. Benda's great-grandson).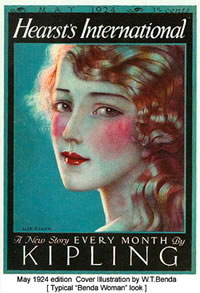 Long before his fame as an intricate mask maker, Wladyslaw Theodore Benda (1873-1948) was one of the preeminent illustrators of the 20th century. Through his countless illustrative works for such publications as Cosmopolitan, Colliers, Saturday Evening Post, and Hearst magazines, his name became synonymous with the "Benda woman" -- graceful, confident, exotic.
Mr. Benda began his life in Zakopane, Poland where he later studied engineering at the Pozna School of Technology and then studied at the Krakow Academy of Fine Arts. When in the 1890s he was accepted into Vienna's prestigious School of Fine Arts, his future became sealed by his new attention to training in the Old Masters style. His work in sketching the female form became evocative of the Mannerist and Baroque artists.
In 1898, at 25, Mr. Benda moved to America with his father and two sisters. They first resided in California with Mr. Benda's aunt, famed Shakespearean actress Helena Modjeska (1844-1909). It was here he first because connected with the theatre through his aunt's friends Ellen Terry, Lilly Langtry, and Sarah Bernhardt.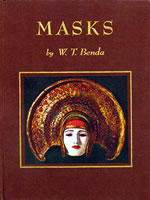 His early work began in Los Angeles with sets, costumes, and props for such productions as Shakespeare's Cleopatra (in which his aunt starred). This began his early interest in theatrical pursuits.
His main goal was to be an artist, and in 1905 he left for the East Coast to continue to pursue his art studies. With his strong grounding in international art studies, it was only a short time before this "Viennese style artist" (a movement which was becoming popular at the time) led him to a series of prestigious illustration commissions.
It was approximately 1914 when Mr. Benda began his more sculptural pursuits leading to his "Benda Masks" which he later referred to as "False Faces." He built a reputation for these beautiful, realistic theatre masks, which were mostly constructed out of paper mache over bamboo or wire armatures. They first appeared in the production of Greenwich Village Follies (1920) and at New York's Coffee House in a piece specifically written to feature them. Benda Masks also found their way into such staged works as those by Noel Coward and Eugene O'Neill.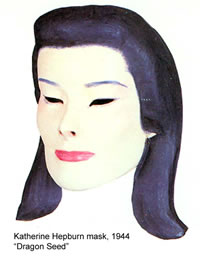 The popularity, uniqueness, and high realism of these masks made them a highly desirable commodity. Hollywood took notice and there were many commissions of importance including the famous Katharine Hepburn mask for her role of Jade in Dragon Seed, which was used on tour as a promotional device.
Mr. Benda's masks range in style from the delicate female portrait, elegant and cat-eyed, to the grotesque and bizarre. Each handmade mask is a unique work of sculptural art in tribute to the subject as well as manifestation of the detail oriented mind of this gifted and passionate artist.
More information can be found on his life and technique in his book Masks published by Watson-Guptill, 1944.
To Top